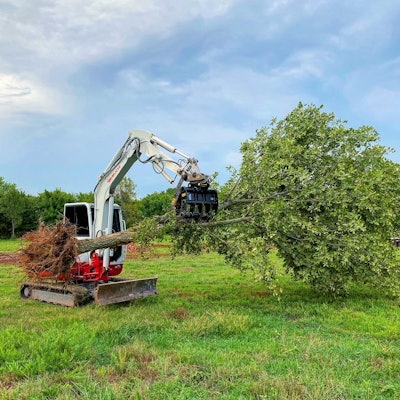 Werk-Brau grapple rake compact excavator holding tree
Editor's Note: This story was updated June 7, 2022, to add new products.
With these 18 attachments, you can clear land, crush concrete, compact soil and more with your compact excavator. We also present some tiltrotators, thumbs and quick couplers to make life easier for operators.
Here's a rundown of the 18 compact excavator attachments:
Werk-Brau's grading and grapple rake turns compact excavators into a landclearing or demolition machine. The multi-tined rake attachment can be used for gathering demolition debris, removing brush, extracting roots and sorting material, among other tasks. It can be quick-coupled and has the same curl and dump angle as a standard bucket. The underside of the rake has tine serrations for stronger gripping force. The heavy-duty tines are supported by reinforced plates and have gussets between them for added strength and durability, the company says.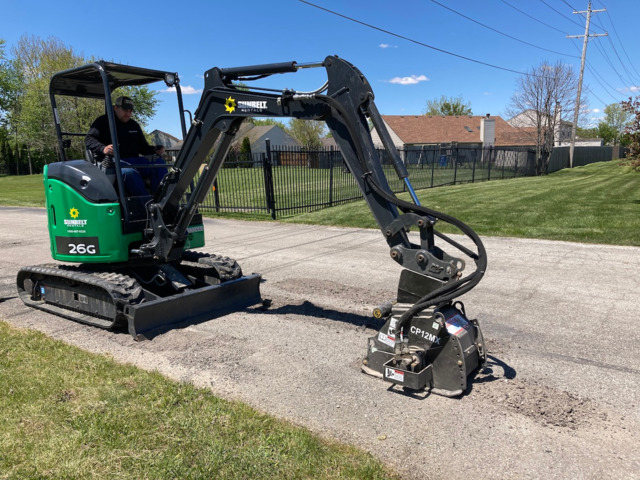 RoadHogRoadHog's MX Series Mini Excavator Planers feature a direct-drive Geroler motor. They have a cutting depth of up to 5 inches that is adjustable in 1-inch increments. They are available in cutting widths of 12 or 16 inches. They attach to the excavator via pin-on or quick-attach mounting system. They are designed for pothole repair, curb lines, trip hazards and frost heaves and for opening pits for pipe repairs. Optional drums are available for specific width needs, the company says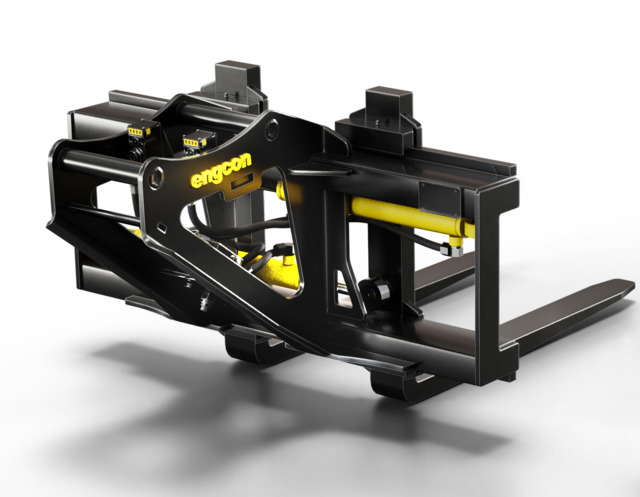 EngconEngcon offers a lightweight pallet fork attachment designed for excavators weighing 2 to 6 metric tons. Combined with the company's ECN206 tiltrotator, the attachment expands the work that can be done by the machines. The company says it also responds to the growing demand for pallet forks for excavators, which will become "as common an attachment as the bucket on excavators." The forks come in two versions, hydraulic or mechanical, and can handle a load of 2 metric tons. The standard length of the forks is 800 millimeters.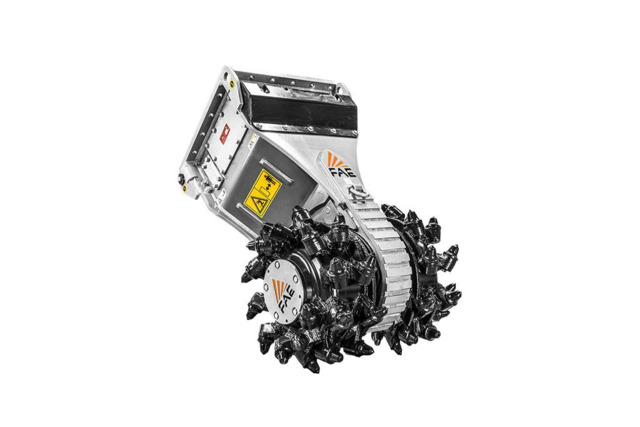 FAEThe FAE RC Rock Cutter Attachment for excavators starting at 2 tons makes quick work of crushing rocks and hard surfaces such as bitumen, asphalt and concrete. The attachments for compact excavators have working widths of 14.5 to 25 inches. A hydraulic direct-drive piston motor with an automatic lubrication system eliminates daily maintenance. The motor is protected by a safety cover, and anti-wear plates increase the longevity of the drum support. Drum teeth are replaceable and include heavy-duty rock teeth and other options.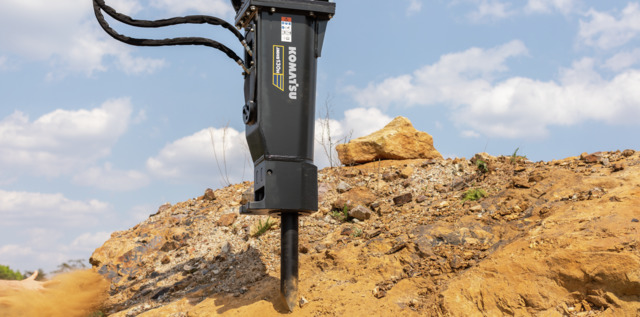 KomatsuKomatsu's G- and H-Series hydraulic breakers include models for compact excavators, starting at 4 metric tons. The G-Series features a hybrid design of hydraulic flow and pressure with a nitrogen-filled chamber. The H-Series consists of accumulator-type breakers that do not require nitrogen recharge. They also come with blank firing protection. They have sound-dampening housings, and a pressure regulator to prevent overflow. To make the H-Series breakers for compact excavators more powerful, Komatsu uses a single power cell to eliminate tie rods.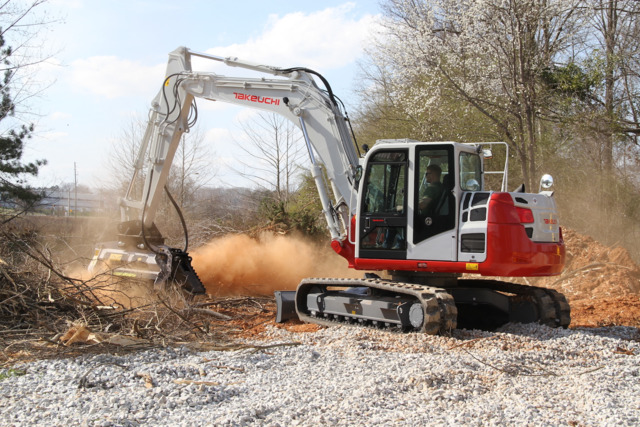 Takeuchi mulcherTakeuchi gives its mulchers IQ technology, an advanced load-sensing system for matching rotor speed to the job. The Takeuchi IQ technology uses an onboard controller that receives signals from pressure and speed sensors on the mulcher's hydraulic system. The controller uses these signals to determine the correct rotor speed. The motor is electronically adjusted on the fly, and calibration can be done with the push of a button. Takeuchi IQ technology also results in less load on the carrier, for improved productivity.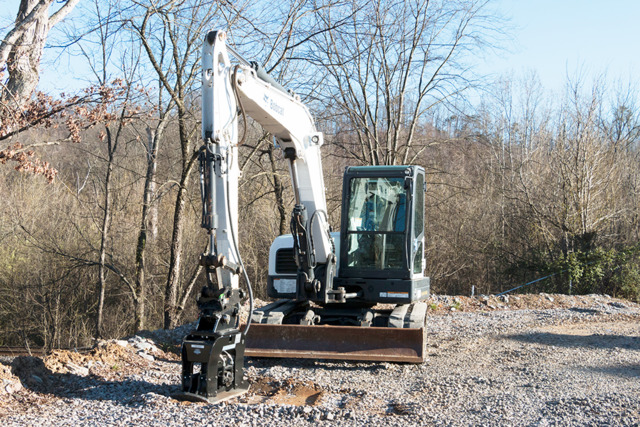 Blue Diamond Plate CompactorThe Blue Diamond Plate Compactor can be used on excavators, backhoes, skid steers and mini machines. It is designed to protect the machine from excessive vibrations without reducing compaction ability. It also reduces noise. The plate compactor is the same width as standard trenching buckets and has a high-pressure cutoff valve to protect the motor. The C310 model weighs 552 pounds for compact excavators weighing 5,000 to 12,000 pounds, and the C410 at 880 pounds fits those weighing 12,000 to 22,000 pounds.

Okada's TOP 60B hammer uses nitrogen gas to cushion the piston on the upstroke and increase piston downstroke for demolishing concrete structures, building foundations, pavement, trench rock and other projects. It has a long stroke design to increase impact and reduce vibration. Cup seals secure the oil and gas chambers. The 60B is designed for use on 12,000- to 20,000-pound compact excavators, skid-steers and track loaders. It requires 17 to 23 gallons per minute of hydraulic flow at 1,740 to 2,320 pounds per square inch. It breaks at a rate of 730 to 970 blows per minute.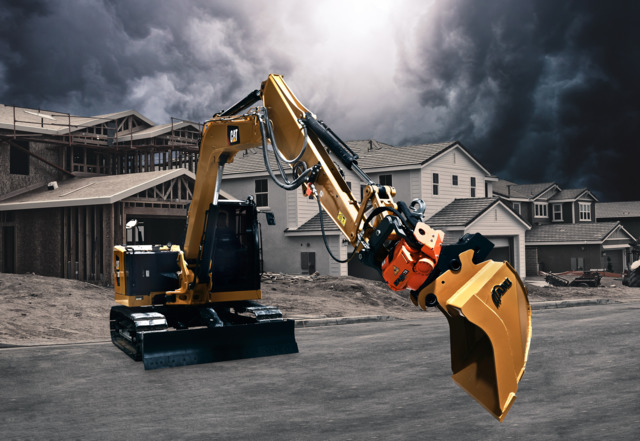 AMI Attachments' new AXXIS TR Tiltrotator, powered by NOX, offers the widest tilt range available at 50 degrees in either direction and the most compact design in the industry, the company says. The AXXIS TR, which also rotates 360 degrees, is available for compact excavators, excavators and backhoes. It features a fully enclosed helical actuator instead of cylinders for increased and constant holding torque and allows you to dig narrower trenches. The AXXIS TR is GPS compatible and available with various ergonomic SVAB joystick configurations.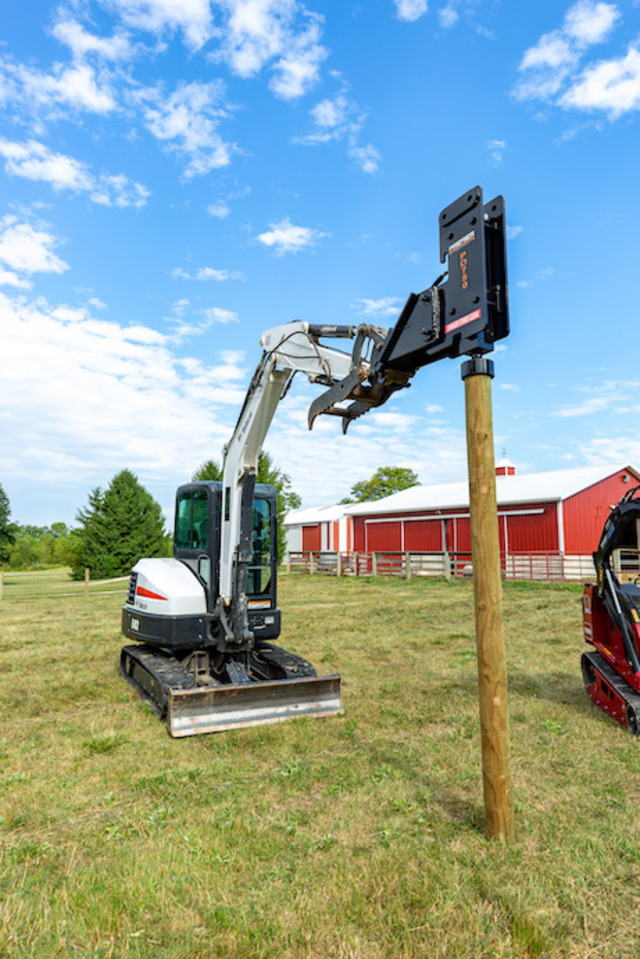 Premier Attachments' PD500 and PD750 post drivers for compact excavators come with a pre-drill option that includes an auger drive to drill pilot holes in tougher grounds conditions. Various mounting brackets are available to fit all makes and models. The PD500 is for compact excavators with hydraulic flows of 10 to 16 gallons per minute and delivers 500 foot-pounds of energy. The PD750 is for 12 to 20 gpm machines and delivers 750 foot-pounds of energy. It is also compatible with skid steers, compact track loaders, mini skid steers and backhoes.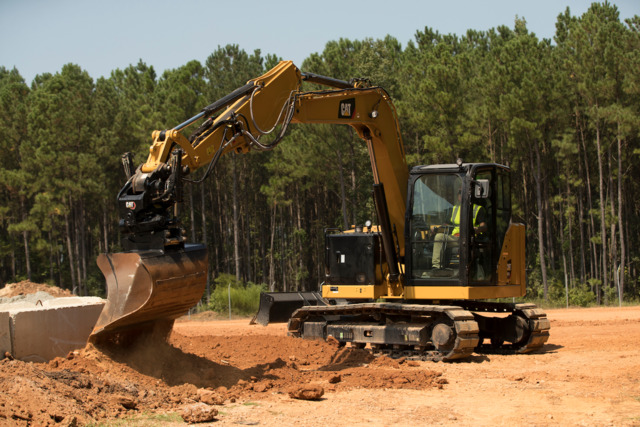 Caterpillar's TRS6 and TRS8 TiltRotate Systems bring tiltrotator capabilities to Cat's Next Gene compact excavators for using buckets, forks, grapples, brooms and compactors. The TRS6 and TRS enable 360-degree rotation and up to 40 degrees of tilt for maneuvering attachments over, under and around obstacles. The TRS6 and TRS8 take only about four hours to install. They have two interfaces: a top interface that connects the TRS to the carrier machine and a bottom interface that connects various work tools to the TRS.

Case Construction Equipment's hydraulic hammers for compact excavators isolate every blow from the carrier and operator through their cushion chamber and then recycle the energy for the next blow. They have only two moving parts and low recoil. Their installation kits include fully configured and pre-assembled hoses and service tools. They also feature a long-stroke piston for increased energy transfer and reduced recoil. A gas recharged kit is included. They have a three-year limited warranty.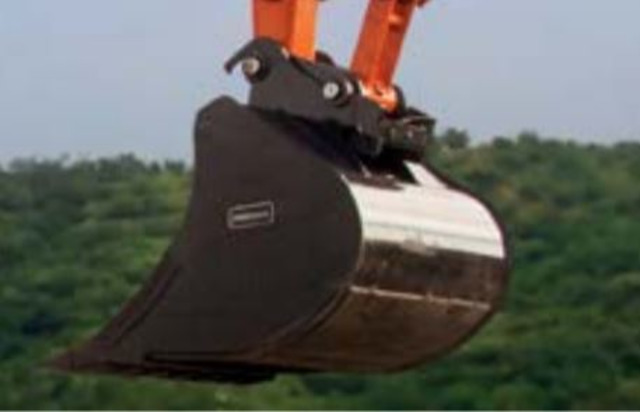 Doosan's quick couplers for compact excavators enable operators to easily change attachments. They can use them to match the bucket width to the trenching task to reduce the chance for over-digging. The operator can switch between heavy-duty trenching buckets and ditching buckets. All of the company's six compact excavators can be equipped with a quick coupler for increasing their productivity and versatility.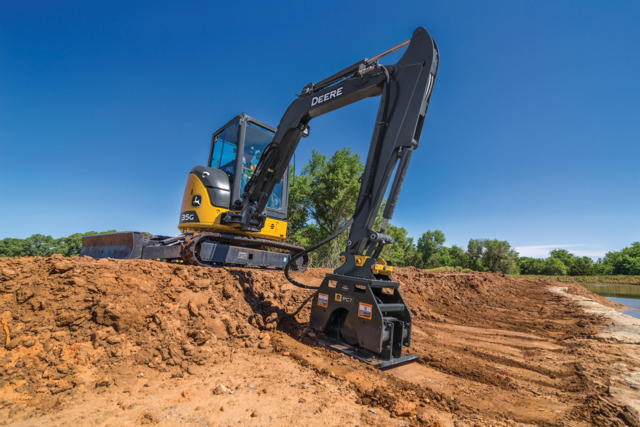 John Deere's plate compactor attachments enable compact excavators to compact soil at high vibratory and impulse forces. The PC4, PC7 and PC10 each deliver 2,000 revolutions per minute at regulated flow and are geared toward trench, slope and excavation compaction. The compactors are designed with a large eccentric rotating weight positioned farther from the shaft, increasing impulse forces to 4,000 pounds on the PC4, 6,400 pounds on the PC7, and 8,000 pounds on the PC10. The weight's positioning also leads to better compaction in granular soils.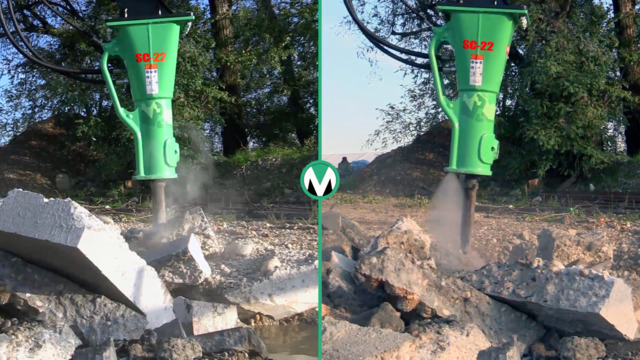 Montabert's water mist system for its hydraulic rock breakers is designed to reduce silica dust on jobsites. The system is available for the company's smaller breakers, such as the SC-22 and SC-28. The spray feature includes an integrated hose-protection design with a water inlet port. Breakers equipped with the system have two lifting points for improved safety and a water nozzle that provides a wide-angle spay. The new mist system is designed to help meet OSHA requirements to reduce workers' exposure to airborne crystalline silica, which has been linked to lung disease.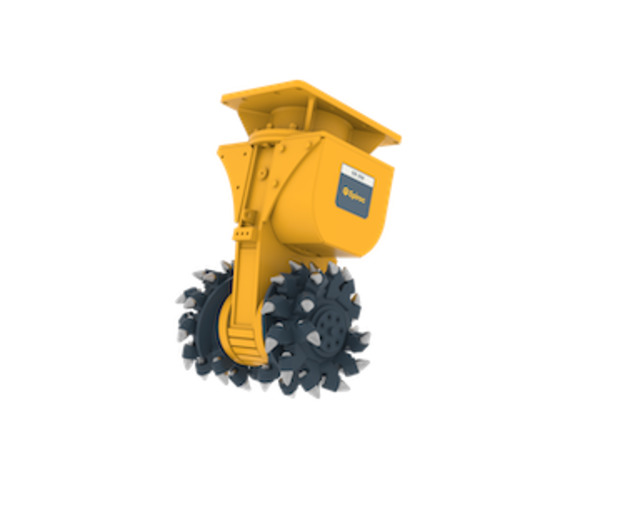 Epiroc Drum Cutters are designed for rock or concrete wall and surface profiling, trenching, foundations, demolition, dredging and rock excavation. A variety of cutting heads are available. The drum cutters use spur gears for energy transmission and reliability. They can be equipped with an optional dust suppression system to meet federal silica regulations. A central fixing system allows the drum cutter to manually rotate 360 degrees without being disconnected from the excavator. They also deliver low vibration and low noise operation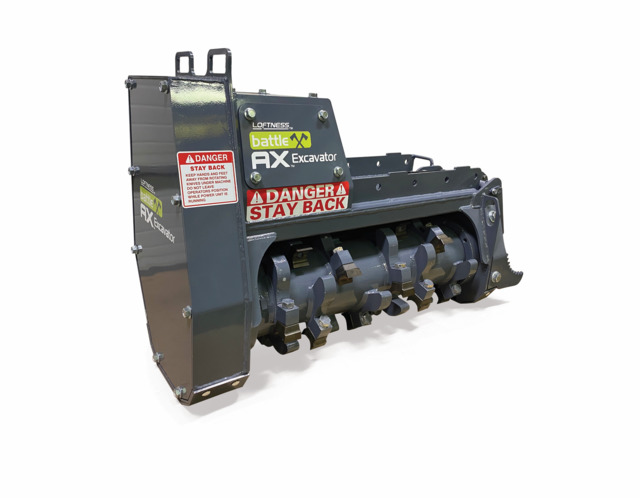 The Loftness 20 Series Battle Ax mulching attachment is designed for 10,000- to 20,000-pound excavators with 20 to 70 hydraulic horsepower. The rotor has depth gauges that act similarly to raker teeth on chain saws for feeding material into the drum for maximum productivity. The mulcher has a two-stage cutting chamber. It is available with either four-point beaver teeth or reversible planer blades. A staggered, spiral tooth pattern delivers single-tooth contact with the work surface at all times, and anti-wrap bearing protection minimizes debris in the bearing chamber.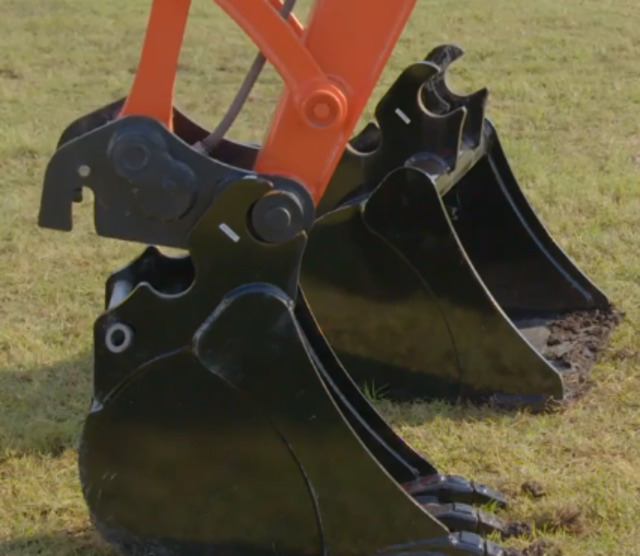 Kubota offers a hydraulic quick coupler for its entire 3- to 4-ton class of excavators, including the KX033, U35 and KX040. The new quick coupler allows operators to change buckets from the cab in 10 to 15 seconds. The coupler includes custom control packages to fit on each excavator model, including specialized hose kits as well as a spring-applied hydraulic release locking mechanism. The new quick coupler is construction grade, compatible with older-style buckets and engineered for everyday use on the jobsite.