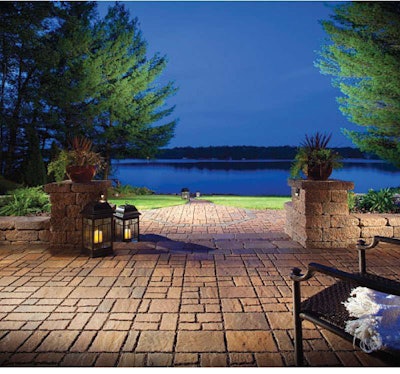 For landscaper Bobby Franz, hardscaping certification and business success fit together as snugly as interlocking pavers.
"Getting certified solidified me as a professional," says Franz, the owner of Franz Nursery in Hamilton, Indiana, and a finalist in Total Landscape Care's 2012 Landscaper of the Year contest. "It provides us with a competitive advantage and conveys to customers that we're serious about hardscaping."
Franz earned his hardscaping certification from the Interlocking Concrete Pavement Institute in 2003. He says it's much more than just the proverbial feather in his landscaping cap.
"It works as a sales tool because we can tell customers we install hardscapes according to ICPI specifications," he says. "And internally, by using those guidelines, I know Foreman A and Foreman B are using the same process to install patio pavers."
Get a profitability boost
To earn ICPI Concrete Paver Installer certification, hardscapers must take a two-day course and pass an exam at the end of the second day. Then they must install at least 5 projects and 10,000 square feet of pavers. Courses are offered throughout North America, primarily from November through March, and cost $350 for non-members and $280 for informational members, $245 for affiliate members and $210 for voting member.
Certification is valid for two years. During that time, contractors must take eight hours of continuing education classes to maintain certification. The ICPI charges a recertification fee of $50 for members and $100 for non-members and maintains a list of certified installers on its websites so consumers can verify landscapers' credentials, says David Smith, the group's technical director.
"Getting certified is like putting money in your pocket," he says. "You learn about efficiencies in the field — such as best placement of materials and equipment on a job site — and in the office, with things like how to do estimating and job costing.
"You also learn best practices for everything from compacting to cutting and installing pavers," he adds. "And after that, you can use certification to market your company."
Smith also points out there's a difference between training and certification, although both are necessary. The former teaches contractors about best practices in their particular trade, while the latter is a more marketable commodity because it provides industry recognition of that knowledge, based on an exam and/or installation experience.
Separate from the pack
Certification helps hardscapers differentiate themselves from competitors, which is especially important in the present economy, says Ken O'Neill, the senior vice president of marketing for Belgard Hardscapes.
"Anyone can say they can install pavers, but not everyone understands the whole process," O'Neill says, citing the importance of certification. "There's no reason to have someone (improperly) install a product with a 50-year life cycle so it lasts only two years. That's the whole purpose of certification — to make sure an installer's skill set is equal to a product's sustainability."
Both O'Neill and Smith say their organizations can't quantify with hard data the contention that certification helps hardscapers win more bids than non-certified contractors. But both say their organizations field plenty of phone calls from consumers who ask for help in finding certified and/or authorized contractors in their areas.
Beneficial to business
Franz says during the years, ICPI certification has added value to his company in many ways.
"I've taken our two foremen to get certified," he explains. "The education alone is invaluable. The first time, one of our foremen thought he knew everything about laying pavers because it's what he does every day. But he learned a lot."
Another factor: To be a certified contractor for paver manufacturers such as Belgard and Unilock, a contractor must obtain ICPI certification, he says.
"Overall, I would say certification is well worth the money," Franz concludes. "At the classes, you meet other contractors who install pavers on a daily basis, and you can bounce ideas off of them and share experiences. And the certification benefits almost every aspect of your business."
Training available
• Belgard offers Interlocking Concrete Pavement Institute certification courses, as well as a broader spectrum of classes, which educate contractors about Belgard products, sales and marketing.
• Unilock, which manufactures concrete landscape products, including pavers and retaining wall products, offers training and seminars across North America throughout the year.
• The National Concrete Masonry Association also offers certification classes, including one for segmental retaining wall installations.
EDITOR'S NOTE: This article was written by Ken Wysocky.