Supplement your bottom line, create good will and gain clients for your existing lawn or landscape business.

As cooler weather approaches, landscape work slows down in many regions of the country. In early winter, there's no grass to cut, no patios to install and no irrigation systems to repair. During low snow years, even snow removal cash flow dries up. But Christmas is something you can always count on: It comes every year at the same time.
Why add holiday lighting?
Around 2006, Jimmy Tompkins of JT's Landscaping and Lawn Care in Raleigh, North Carolina, began exploring options for keeping his workforce intact through the winter months. "I was losing my labor force when we had nothing to do. We don't have snow to push," Tompkins says. "I was getting tired of the cost of interviewing, weeding out and retraining quality workers each year."
Investigating ways to keep his cash flow going, Tompkins examined ideas from obtaining snow contracts in Virginia to hardscaping and chemical applications. He discovered in some parts of the country, such as California, landscape companies were hanging holiday lights and décor for residential and commercial customers. "This turned out to be the best fit," Tompkins says. "I already knew my client base, and the timing was right."
At first, there were plenty of scoffers. "Most people thought I was an idiot," he says. But in 2011, Tompkins's company decorated homes and businesses for almost 200 customers. He limits the number of contracts he accepts each year to fulfill them in a timely manner because the season is so short. "It's not a huge money generator, but it's a supplement. And I don't lose 30 or 40 percent of my workforce when things slow down, so I don't have to rehire and retrain new people next spring."

Bringing holiday cheer to clients' homes also generates an automatic feel-good factor, which means satisfied clients may return for other services. "What I didn't project is that some of my lighting clients became landscaping clients," Tompkins says. "That's been huge for us."

Getting started
Getting started in holiday lighting doesn't necessarily require a big investment. Starting small is one way to learn the business. "Approach a few of your existing maintenance or install clients with whom you have a good relationship," says Nick Schriver, general manager of Decorating Elves in Tampa Bay, Florida. "Take on a few projects the first year to find out if it's something you really want to do."
Most of the profit comes from labor, with margins running from 15 to 45 percent. Many contractors learn the ropes from companies that offer classes, videos, manuals and webinars to guide startup. Others become part of a franchise, which provides training, marketing advice and ongoing support (initial costs are around $7,000 plus royalty fees). "As much as anything, a franchise buys you experience," says Brandon Stephens, president of Christmas Décor in Lubbock, Texas. "That way, if you run into any issues, we've probably encountered the problem before and can help you troubleshoot."
Make sure to begin planning early. "One of the biggest mistakes contractors make is trying to add the service as an afterthought," says Brad Finkle, president of Creative Decorating in Omaha, Nebraska. "The season creeps up fast. You've got to have everything ready, such as where you're getting the products from before the rush hits in November."
Also, don't forget to contact your insurance company to discuss whether or not you'll need additional coverage.
Avoiding pitfalls
The most difficult aspect of adding holiday lighting to your service mix is that the season is short. "There's not a lot of time for training," says Dmitriy Denisenko, president of ALL-N-1 Landscape in Lawrence, Kansas. "People start calling in November, and you start installs immediately. The season is only about a month long. If you don't have an efficient crew, you can't fulfill your obligations."
The timing of installations is another factor. Most contractors begin installs as early as late October and finish by the second week of December; takedowns begin the day after Christmas to mid-January. Crews also need to be comfortable with climbing. "While a typical maintenance crew member may be on a 6-foot ladder a couple times a week to trim tall hedges, we're using 36-foot extension ladders daily for rooflines or tall trees," Schriver says. "You need people who aren't afraid of heights."
It's also helpful to have a basic working knowledge of electricity, including how to use an amp meter so you aren't overloading the typical household circuits of 15 to 20 amps. "The advent of LEDs, which draw much less power, has made residential installations fairly straightforward," Schriver says. "But you may still need to call in a licensed electrician to consult on large projects."
There are some aspects you have zero control of, however. "Light bulbs go out," Schriver says. "When you have a light set with 100 mini-lights, that means 100 potential problems. You need a maintenance plan so you can respond within 48 hours." And no matter what the weather, clients expect lighting to be installed as promised. Avoid over-scheduling crews so you'll have time for callbacks and weather delays.
When it comes to design, don't worry if you're not the most creative person. "Most people don't have the money for elaborate design," Denisenko says. "About 90 percent of our clients want the roofline lighted, and if there's any money left in their budgets, we may put up wreaths or add mini-lights on trees and bushes."
How do you make money?
Some companies price by the labor hour, while others price by the total job. Typical residential installations run from $500 to $600 to several thousand dollars; commercial accounts may be slightly higher. Most companies establish a minimum fee, ranging from $100 to $450 per job. Takedowns typically require about one-third of the time that installations require and are included in the original bid.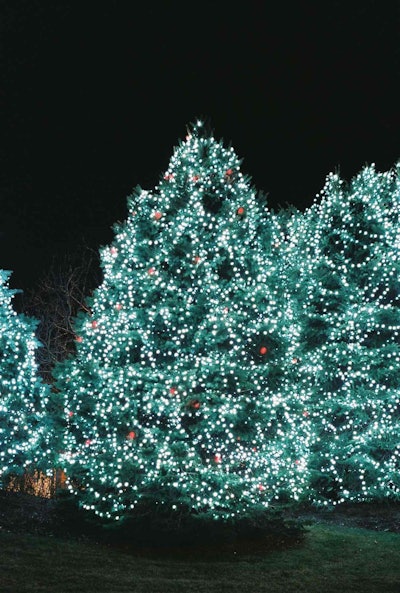 Materials offer another profit opportunity. Some contractors do installations with products the customers buy and store themselves. But the majority of contractors install commercial-grade products clients buy or lease through them. Generally, materials account for about 30 percent of the cost, with about a 15-percent markup. Some contractors also use warehouse storage for decorations in the off-season, with storage fees built into the bid.
Contractors say one of the biggest challenges is getting potential clients to understand how much labor is involved to justify the cost. "Explain why you're the professional," says Nick Roth, owner of Nick's Landscaping of Ohio in Copley, Ohio. "You come back if bulbs go out. You won't have sloppy wires drooping along the gutter line. You use 100 clips when they might use two or three if they're doing it themselves."
You also need to understand customer expectations. "You may agree to decorate an ornamental tree's canopy and think one man can do it in 20 minutes. But your client may want each limb wrapped, which is going to take two or three hours," Roth says. "Communicate that kind of detail beforehand so you're not underestimating your bids."
Marketing yourself
Start by informing existing clients about the service through flyers, billing inserts or e-mail. To garner new clients, door hangers and direct mail should target homes with a certain minimum square footage, price or within a specific zip code. "Postcards with photos are great tools because this is a visual business," says Travis Freeman, president of Brite Ideas Decorating in Omaha, Nebraska. Time them to arrive in the first part of November when people start thinking about the holidays.
Consider media such as Google ads, and don't forget to announce services on your company's social media accounts. Placing yard signs with your company name and phone number in front of your current clients' homes can drive sales for next year.