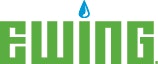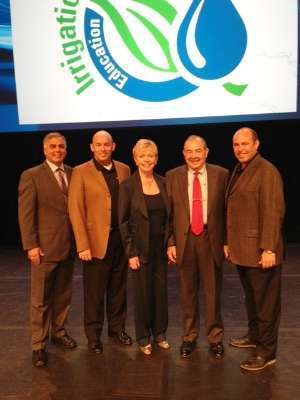 Ewing's Ray and Sue York received the Irrigation Association's Industry Achievement Award during the Irrigation Show today in Orlando, Florida.
Presented by Irrigation Association (IA) President Philip A. Burkart, the Industry Achievement Award recognizes individuals whose careers demonstrate outstanding contributions to the advancement of the irrigation industry, products, practices, education, research or professionalism.
Celebrating more than 50 years of service in the Green Industry, Ray and Sue York have maintained a strong industry presence while guiding and growing the Ewing Irrigation Products brand as the nation's largest family owned and operated distributor of landscape and water management products.
Accepting the award "on behalf of the employees of Ewing who made Ewing's successes possible," Sue York spoke of the three things she values in life most: her family; the Ewing company, and its incredible team of caring people; and the landscape and irrigation industry itself.
"I am so proud of this association, and of what it has accomplished."
"I am so proud of this association, and of what it has accomplished," said Sue, recalling her tenure as IA president in 1998, working with industry colleagues to form coalitions with other associations, water agencies, water districts and water users. "(Our goal) was to lay the groundwork for water conservation efforts and advances, and to get the word out about the short supply of water and the need to manage it more carefully."
"It's exciting to see how far we've come," said Sue, highlighting efforts in the areas of Smart Irrigation Month, Smart Water Application Technology (SWAT) programs, and more.
Honoring past recipients of the award, Ray York thanked Ewing customers for a lifetime of support.
"We have some wonderful customers, some of them going back 34 years in Northern California," he said.
He acknowledged Ewing suppliers and manufacturers, employees, and family members for contributing to his success.
"Most people don't realize what it takes to be a successful dealer," Ray said, offering gratitude for Ewing suppliers. "Being a successful dealer or distributor is dependent on the manufacturers and the people that supply you, (and I) thank this group from the bottom of my heart."
Ray also recognized and thanked Sue, his wife and business partner of 52 years; sons Doug and Richard York, who started contributing to the family business at age 6; and Raul Gonzalez, a long-tenured Ewing employee hired during the company's expansion into Southern California in 1982, now serving as Ewing's vice president of industry relations.
Ray and Sue York served as Ewing Irrigation Products' Chief Executive Officer and Chairman, respectively, for 40 years. Under their leadership, Ewing grew from two locations in 1963 to more than 115 locations in 2002, when they appointed Doug York as President and Richard York as Executive Vice President, establishing a third generation of Ewing/York family leadership.
Ray and Sue remain active in certain aspects of the business, and now oversee operations for Landscape Products, a private-label manufacturer of professional grade landscape and irrigation products.
Longstanding landscape and irrigation industry supporters and advocates, Sue and Ray have served as president of the Irrigation Association in 1986 and 1998, respectively. Previously, they were named to the California Landscape Contractor Association's (CLCA) distinguished list of Honorary Members in 2007 in recognition for their outstanding contributions to the landscape industry.
Ray is a longstanding member and past chairman (2007) of the National Association of Wholesaler Distributors (NAW), and Sue remains active in many academic and community organizations, including the Keogh Health Connection, an organization focused on providing health care resources for women and children. Ray and Sue are both alumni of Stanford University (Ray, '59; Sue, '60).