If you went shopping for a Toro snow blower last winter, yours was a single-stage model or a significantly larger and more expensive two-stage model with a 28-inch or larger auger. To find a more compact two-stage machine, which adds an impeller to the usual auger, you had to look to other manufacturers. But at the recent Green Industry and Equipment Expo (GIE+Expo), a trade show for outdoor power equipment and related gear, Toro showed us three new models that fill the gap.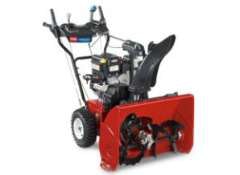 Among the many new Toro products on display at GIE+Expo, the company showed three gasoline-powered models in the Power Max series. (The former, higher-end Power Max series has been renamed the Power Max HD.) To keep the price of even the highest-end model at $1,000 or below, the three have one-piece frames that cost less to manufacture but, the company said, offer more strength and better support the auger housing. In place of shear pins, which break to protect the transmission in case the machine is overtaxed, Toro uses stiffer pins that still protect the transmission yet take more punishment before snapping.
View the full article here.