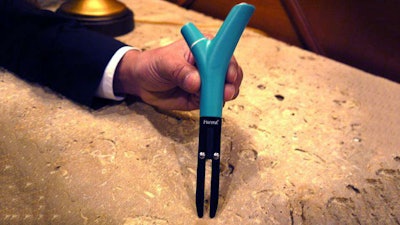 Parrot, the company behind the popular AR.Drone, has revealed a prototype of its not-yet-launched Flower Power smart gardening gadget, which allows users to get data in real time about how to best care for plants, flowers and their lawn.
The Flower Power device — which is shaped like a pair of shears and comes in emerald or brown — measures sunlight, humidity, temperature and fertilizer.
Here's how it works: By placing the Flower Power device into the soil of an indoor or outdoor plant, it measures what's needed to facilitate growth via sensors built into its base. Data is transferred via Bluetooth Smart to the cloud and is retrievable from the accompanying smartphone or tablet app. (The company demoed the app on the iPad but didn't say whether it will be exclusive to the platform once it is launched).
Read the full article here.
– By Samantha Murphy