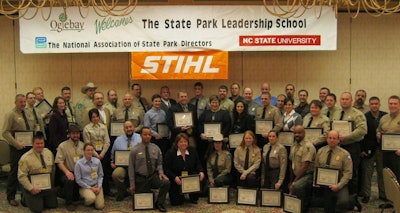 Stihl sponsored the National Association of State Park Directors Leadership School at the Oglebay National Training Center in West Virginia.
The company provided a scholarship fund affording 15 state park staff from across the country the opportunity to participate in this school. In the five years it has funded the scholarship, Stihl has enabled a total of more than 50 park personnel from more than 15 states to attend.
Facing a shortage of qualified managers in the state park system, the NASPD education program was developed as a two-year training program that consists of both distance education and on-site classes to educate future leaders of state parks. This year, 50 first-year participants and 44 second-year participants were enrolled; the highest attendance to date for the school. Stihl established the scholarship fund to enable park personnel from states facing budget cuts to attend.
More than 720 million people visit the over 7800 state parks each year with an economic impact of $20 billion according to the NASPD. Managing the success of the parks in an environment of changing technologies, regulation and budget cuts has become a greater challenge requiring skill sets in areas outside the normal forestry or natural resource management backgrounds of most park staff.
Stihl also sponsors the NASPD annual conference and offers individual state parks support through safety and operational training.
To learn more about the program, please visit naspd.org.