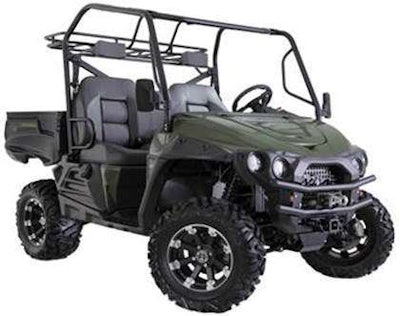 Bad Boy Mowers is introducing its Intimidator Series at the 2013 Louisville Farm and Machinery Show.
The series features American-made utility vehicles with 1000cc Kohler diesel, 750cc Kohler gas and 48 Volt AC electric UTV built on a common solid-steel, all welded chassis with functional body styling. The series has a 1,700 pound payload as well a shift-on the fly four-wheel drive.
The bench seat will hold three adult passengers, and the vehicles come with a digital instrument panel with push-locking differential with 4×4 capability.
The intimidator also includes 10.25-inch slip-on brake rotors with dual piston calipers, a parking gear in the transmission and an emergency break that locks all four wheels. The vehicle also includes 6-ply 27-inch tires with 14-inch aluminum alloy rims with up to 10 inche of up and down shock-absorbing wheel travel on each wheel.