Classen Introduces New Reciprocating Aerator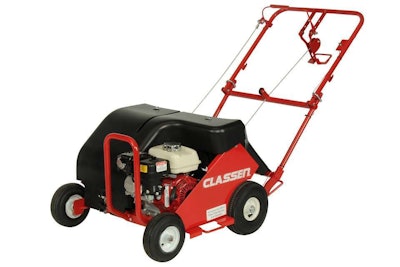 Classen has introduced a new reciprocating aerator. The Classen RA-21 reciprocating aerator offers a 21-inch aeration swath for coverage in a single pass made possible through an 8 tine bank that penetrates even the toughest soil conditions at a depth up to 2.75-inches.
The core tines reciprocate at 450 revolutions per minute and cover up to 26,000 sq. ft. per hour.
An open design allows for clear unobstructed access to the engine. The rust resistant tine shield is lightweight and easy to remove for access to the tines and drive belt.
Core Classen Reciprocating Aerator Features:
Reciprocating Tines
Eight tines provide a 21-inch aeration swath and a tine speed of 450 revolutions per minute, aerates up to 26,000 ft. per hour with more cores per square foot than typical drum style units. Punches clean, deep holes up to 2.75" deep through the toughest soil conditions. No additional weight needed.
Optimum Frame Design
Drum-free design requires less physical force to operate, maneuver and turn.

Drive belt can be replaced without having to completely remove the crank shaft.

Two-Piece Tine Shield

Plastic shield absorbs the overall noise of the unit.

Allows for easy access to grease zerks without tools.

Lighter in weight than large metal covers.

Folding Handle
Less room required in rental store/shop, trailer, garage or shed.
ON/OFF switch

Located within easy access of operator.

Lift/Tie Down Brackets

Easily lift on to back of truck/SUV. Allows operator to safely transport the unit.

Tires

Pneumatic wheels allow for better flotation and easier maneuverability.

Tire Scrapes
Keep tires clean from dirt and allows maximum penetration of tines.

Unit Size

Narrow 31.5" width easily clears a 32" gate without removal of the wheels.

Fold-down handle for storage in tight spots.

Tie/lift brackets for safe and secure transport.