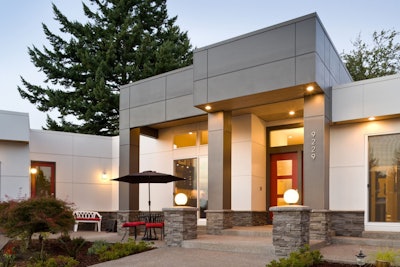 When your clients comb through house plans for hours and finally decide on the perfect one, it's important to remind them that the exterior design is equally important as the interior. Outdoor lighting can serve to simply illuminate pathways, or homeowners can use it as a tool to showcase the home as a neighborhood masterpiece. There are as many exterior lighting options as there are home plans, but the best ones are those that match the home's architectural style and highlight its best features.
Outdoor lighting considerations for all house plans
Safety: Regardless of a home's style, the most important aspect of outdoor lighting is safety. According to the Home Safety Council, falls are the top cause of home injuries; good lighting can help. In addition to helping people make it to the front door safely, exterior lighting can also help deter would-be intruders.
Dramatic effect: Obviously, nighttime is when exterior lighting can be truly appreciated. To create a natural nighttime light, a popular technique designers like to use is the "moonlight" effect. This effect mimics the highlights and shadows a full moon might cast on a home and landscape.
Efficiency: LED lights are slightly more expensive than incandescent and halogen light bulbs, but they pay for themselves with their 15-year lifespan. Plus, the low-voltage wiring makes LEDs about 75 percent more energy efficient than their traditional counterparts. These lights are also ideal for the exterior of a home because they're directional and focused.
Neighbors: Exterior lights should not inappropriately cast light on or into surrounding homes. The goal of outdoor lights is to complement a home plan's architecture and add safety – not put on a light show for the neighborhood.
Types of outdoor lights
Safety lighting. Floodlights and path lights are the most popular types of safety lights. Floodlights are great for driveways and garages. Use path lights to help homeowners and guests walk from the driveway to the front door safely.
Accent and decorative lighting. Use accent and decorative lights at front doors, porches, patios and on exterior walls to illuminate different parts of the home and make guests feel welcome. These types of lights include wall lights, lanterns and pendant lights. Post lighting is another decorative option; consider using post lights to create a romantic feel around a pool or patio.
Landscape lighting. Walkway lights add security and decorative illumination to a backyard path, garden or a set of steps. Stagger them on either side of a pathway to avoid creating an airport runway look. Deck lights are essential for illuminating stairs, rails and benches to make decks safer for homeowners to use at night. One of the latest deck lighting options for designers: flush-mounted lights that can be walked on without causing damage.
While many lights point downward, landscape designers use weather-sealed well lights and spotlights to give a landscape and home a moonlit effect. Use these lights to highlight trees, floral features and architectural aspects of a home.
Outdoor lighting ideas for different house plans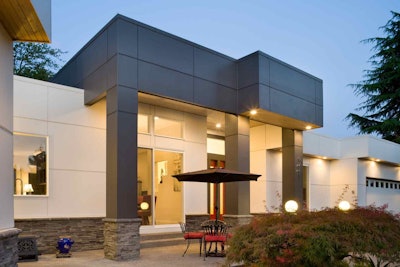 Craftsman house plans: Craftsman house plans are all about clean lines, natural materials and handcrafted details. For this style of home, consider using mission-style post lights with pagoda-shaped lanterns at the foot of deck stairs and the end of a drive way. Matching lantern-style sconces on either side of the front door, or a mission-style flush-mount ceiling light on a porch, are highly complementary. Then use well lights in the ground to highlight the deeply overhanging eaves.
Contemporary house plans: Contemporary house plans feature open spaces, expansive windows and a blend of building materials and geometric shapes. Use well lights to highlights a home's unique roofline, and add wall lights so they're parallel with the home's lines. Install lights under the eaves to illuminate the porch and patio.
Ranch-style home plans: Ranch-style homes typically feature a single level and long street facade. Their exterior is generally simple, so you can use spotlights within trees to give them a moonlit look. Use path lights to illuminate the way to the front door, and install a wall light at the front door. If the home has decorative elements on its exterior, like stonework around the front door and garage, use well lights or spotlights to highlight the feature and add depth.
Colonial house plans: Colonial house plans feature columns; exterior accents made with bricks; gable ends; porches; and beautiful windows. For homes with columns, use column lighting or well lights so others can appreciate their beauty at night. Hang pendant lights under porches to give them a warm glow, along with lights along the rails. For a home with a set of stairs leading up to the front door, but no porch, install a traditional-style post lamp on either side of the staircase.
Quality outdoor lighting can give a homeowner a good 50 percent return on investment by increasing the value of the property. As with all projects, a successful outdoor lighting design starts with a thoughtful plan that ensures the illuminating accents will provide the right levels of light for a home's façade.
EDITOR'S NOTE: This article was provided by Houseplans.co is the online home of Alan Mascord Design Associates, where visitors can find more than 700 home plans in a variety of styles, from craftsman to contemporary.