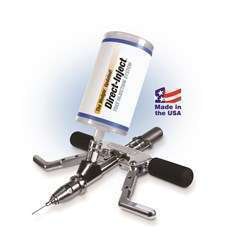 ArborSystems has introduced a quick-connect injection tip for the company's Wedgle Direct-Inject Tree Treatment System.
The 3-inch Pointle Palm Injection Tip has a pointed end that helps the tip get into the palm.
The chemical ports are recessed to reduce the amount of plant material clogging the tip.
Because of the pointed tip, the chemical moves past the palm's outer husk and transfers to the inner active layers.
Some palms require a starter hole to be drilled so the injection tip can be inserted into the husk.
The Pointle Palm Injection Tip is available separately or in a kit that includes the tip, tip setter, tip cleaning and storage container, instruction guide and rugged case.