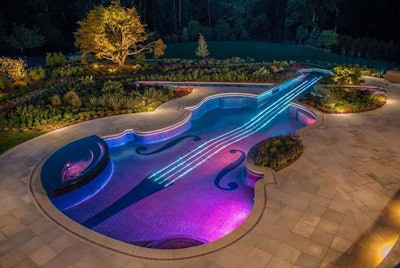 The Association of Pool & Spa Professionals (APSP) recognized Cipriano Custom Swimming Pools and Landscaping with a "Gold Award" for the music themed, all glass tile and fiber optic violin swimming pool design.
New Jersey-based Cipriano Custom Swimming Pools & Landscaping received the APSP's "Gold Award," in the category "Residential Concrete Pools 601 Square Feet or More," for the design and construction of a custom glass tile & fiber optic swimming pool in New York.
The pool was designed in the exact shape of a 1700's era Stradivarius violin, with all of its intricacies.
In order to make the pool as realistic to a violin replica as possible, the 1,350-square-foot pool included all of the relevant characteristics, such as the strings, a chinrest, a tailpiece, a bow, f-holes, a purfling and a bridge.
The pool interior is finished with approximately 500,000 individual pieces of iridescent glass tile, and the floor of the pool was designed with a four-way gradient pattern.
The "chinrest" on this violin is a 12-person perimeter overflow spa that is finished in black glass tiles.
The "bow" of the violin intersects the pool at its neck, and is represented by two koi ponds. The koi can be viewed from within the pool itself, due to acrylic panels on both sides of the pool.
The pool displays a fiber optic rope lighting feature, which is installed throughout the periphery of the pool—more than 350 feet of fiber optics.
Additionally, the "strings" of the violin pool are interwoven with 5760 strands of fiber optics.