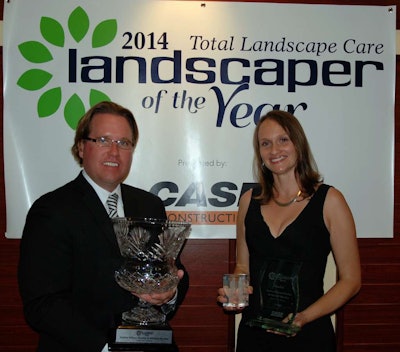 How can you run a successful landscape business?
TLC's 2014 Landscapers of the Year, Michael and Andrea Mueller, share their tips to success — from projects to employees.
[youtube -uAidwE6RV8 nolink]
5 Tips to the Muellers' Success
Focus on what customers want. "Go inside of their home, and see what the inside's like," Andrea says. "Do your design reflective on their styles and tastes – not just something you always do. Listen to them, and then throw in your expertise and creativity to make it a one-of-a-kind project."
Keep good employees. "When we hire somebody, we make a commitment that they're going to work for us year round," Michael says. "Their families have to eat throughout the year – this isn't just part-time stuff."
Have fun. "You have to love what you do," Michael says.
Don't reach too far. "Know your limitations," he says. "Don't get in debt if you don't have to. If you can't afford a new truck this year, don't buy it – wait until next year. That's where a lot of companies make a mistake."
Don't be afraid to do new things. "When Michael suggested we offer hardscaping, I thought he was crazy," Andrea says. "Now, that's the bulk of what we do."
Read the full story on their business in our January issue and check out more of their project photos in our Gallery. To enter to be next year's Landscaper of the Year, click here.