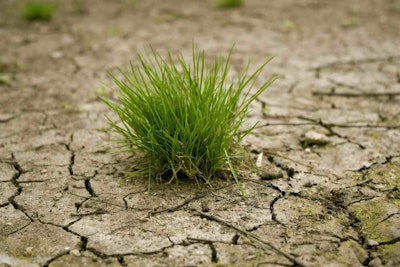 Most people might think drought comes once a year during the summer months.
However, drought can happen anywhere at anytime, and California is facing one of its fiercest droughts in a long time.
Gov. Jerry Brown declared a statewide drought emergency and has encouraged residents to start focusing on the possibility of water shortages, according to USA Today.
Because of the emergency declaration, the state can turn to the President to expedite some water transfers, financial assistance and suspend some state and federal regulations.
Currently, there is a voluntary water conservation of 20 percent for residents, which in turn can affect a great deal of landscaping across the state.
Water Conservation Solutions
According to Richard Restuccia, the Director of Water Management Solutions at ValleyCrest, some cities and local water agencies have the power to decide what measures to take, including the possibility of banning outdoor water all together.
Restuccia details three options that cities and agencies can do to help reduce water consumption during droughts that landscapers should be aware of:
Provide additional or increase incentives to property owners to install water saving technology on their property.
Limit the amount of days someone can water their landscape.
Often times, the best solution is one in which both sides give up something as well as win something.
"Droughts are a lot like slumps in hitting a baseball," Restuccia says. "You are either going into one or getting out of one. This drought certainly is going to give Californians the opportunity to make long-term decisions on the amount of water they consume. It also provides an opportunity to make wise choices to reduce their consumption for the future when the supply of water is less per person due to population increases."
Add Auditing
One of the best practices a landscaper can do is perform audits for clients when it comes to irrigation systems.
According to RainBird, watering lawns and landscapes can account for up to 50 percent of an average client's total water use.
An irrigation audit will tell a landscaper many things about a system, including:
Problems with an existing system, such as blocked, clogged or misaligned sprinklers improper spacing of sprinkler heads
The capabilities or limitations of a sprinkler timer
If there is too little or too much water pressure
The soil type, root zone depth and amount of water available to the plants
How evenly the sprinklers distribute water
How much water plants need based on their type and water requirements
Get Certified
Also to help with conserving water is the variety of calculators and classes from the Irrigation Association, including dripline and irrigation calculators, as well as classes in water management.
Becoming a Certified Landscape Water Manager can help water conservation on every site by being able to:
Choose the right irrigation system for the application.
Apply innovative technologies, products and practices to maximize water-use efficiency.
Customize irrigation schedules based on water requirements, quality and availability.
Evaluate system performance and irrigation effectiveness.