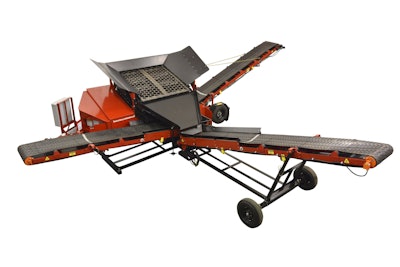 Lake Erie Portable Screeners has introduced three roller bed conveyors to its line of screening equipment.
The conveyors can be used with Lake Erie's Pitbull 2300 screening plant to produce three grades of material at once.
Because the belts move across the conveyors' rollers instead of the entire surface of a slider bed, the machines operate with less friction.
The ground conveyor is mounted on a steel frame that rests on the ground.
Users can adjust the stacking and radial stacking models from 5 to 11 feet high and feed material into a loading vehicle. The adjustability also allows users to create larger stockpiles.
The radial stacking conveyor features tire and wheel assemblies that can be positioned to allow the stacker to move on a radius instead of being limited to a fixed point. This allows users to pivot the conveyor left or right in a radial arch versus moving the entire unit when creating large stockpiles.
The standard size of the three conveyors is 30 inches wide by 20 feet long, but the company can also customize designs to provide alternate sizes.