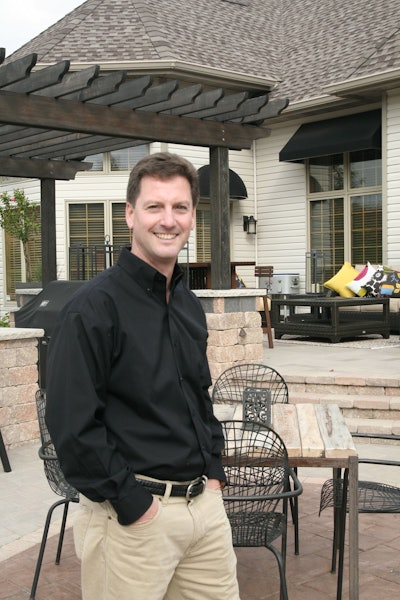 How a Wisconsin landscaper's cost-cutting and design skills help him hit 'singles' to score big
It's not uncommon to find landscapers who are highly skilled at their craft but not nearly as good at running a company. Landscape architect Joe Hanauer isn't one of them.
The owner of Landscape Architecture in Madison, Wisconsin, and 23-year veteran in the landscaping field, Hanauer has built a successful company by combining strong design sensibilities with business smarts that minimize operating expenses and maximize efficiencies. That, in turn, enables him to deliver great value for customers and remain competitive on price.
"I always tell our guys we have to hit singles," Hanauer says, explaining a central principle of his cost-cutting philosophy. "It's wonderful to find a way to save $10,000, but it's not likely…it's rare to hit a home run like that. But, if you save $1,000 10 times during a year, you can achieve the same thing – and it's much more realistic."
He negotiates everything with vendors, from delivery to dumpster-rental fees. "I've also worked out deals where we don't pay restocking fees for returned materials, which often run anywhere from 5 to 20 percent (of the purchase price)," he says. "That way, we can order a bit of extra materials without incurring any additional costs, plus we minimize trips to vendors in the middle of work days if we run short on materials. Time is money."
Hanauer also strives to maintain positive cash flow, requiring a 40-percent down payment with is projects. "I don't negotiate prices, but I will negotiate terms of payment," he notes. "But down payments are essential…you need to make sure you have enough (revenue) coming in to cover what's going out (expenses)."
In addition, Hanauer shrewdly times purchases to make the most of credit terms from vendors. For example, from a timing standpoint, it's better to buy, $6,000 worth of paver bricks during the first few days of the month instead of on the last few days of a month, he says. With the former, the bill won't come due as soon as the latter, so the company makes the most of the credit terms offered.
"We would never hold up a job to do this, but if we have the option, we will do it," he says. "Again, it's all about hitting singles."
Hanauer also invests in new technology to save money. For instance, he bought Vectorworks, a software program with customizable spreadsheets that integrates with an existing estimating system, cutting about an hour off of ever quote. In addition, he purchased chop saws that reduced the time required to cut difficult curves on pavers to about a half hour from six to eight hours. That, in turn, saves a week or two of labor every year.
"That purchase was a home run," he notes.
Humble beginnings
Hanauer graduated from the University of Wisconsin-Madison in 1990 with a bachelor's of science degree in landscape architecture, with a second major in horticulture. After graduation, he worked for a Chicago landscape-design company for six years, where he learned the importance of good design and executing quality installations.
After moving back to Madison in 1996 and working briefly for a couple of landscaping firms, he decided to go into business for himself. So he bought a pickup truck in fall 1997 and started plowing snow. "Thankfully, it happened to be a big snow year," he says.
For another four or five years, Hanauer effectively worked as a landscape consultant, doing design work for landscaping companies that had no landscape architect on staff. Then, in an "aha" moment around 2002, he realized he was giving those firms leads for jobs he could be doing himself. "So, I decided to bite the bullet and buy some equipment," he recalls. "I wanted to completely control the services I provided and ensure the quality of the work."
Today, Landscape Architecture concentrates primarily on high-end residential design/build projects, with a special emphasis on hardscaping. The company grosses about $800,000 annually, employs nine people and owns three New Holland skid-steers, four dump trucks and two Stihl chop saws. Hanauer is a licensed landscape architect and a member of the American Society of Landscape Architects.
Beauty by design
Of course, all of the business smarts in the world don't matter if a landscaper can't make yards look beautiful. Hanauer is adept at that, too, masterfully creating landscapes that artfully blend plantings with hardscapes, yet still serve as functional extensions of customers' homes.
"I try to think about how people will use their yards," he says, describing his design approach. "Landscaping has to make sense from a design standpoint and be functional, too."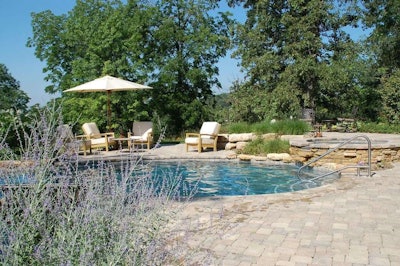 It helps, he notes, that unlike many landscapers, he markets his services to architects, not just homebuilders. That way, he can provide input up-front on things such as yard elevations to ensure proper drainage.
"It borders on civil engineering," he says. "It's my marketing tool. I've found that if clients value the design of an architect, they recognize the value of a land architecture as well."
Hanauer also emphasizes customer service, from little things – such as going out to nurseries, personally hand-tagging trees and shrubs and answering e-mails and phone call promptly – to standing firmly behind all of the work his company performs.
"You have to fix problems when they arise," he notes. "It's too easy to ruin a reputation, so you have to work hard to maintain it.
"I also provide customers with whatever level of understanding they want for a project," he adds. "If they want to sit down and talk about a project for three or four hours, that's what we'll do."
Going above and beyond customer expectations is critical to repeat business and word-of-mouth referrals, Hanauer adds. As an example, he cites one customer who was having a hard time selecting a paver-sand color. "So I bought some bricks and different-colored sands and installed them in his yard so he could see how they looked next to his house," he explains. "I could have sent him to a (paver) vendor, but I wanted it to be a completely hassle-free experience for our customer."
Retaining great employees
Hanauer credits much of his company's success to a great team of employees. To attract and retain quality workers, he does everything he can to make the company a great place to work. "I've got a family, and my guys do, too, so we try to be as flexible as possible," he points out.
Several years ago, Hanauer implemented a four-day workweek, with 10-hour-long days. He initially came up with the idea to save on fuel expenses when gasoline prices hit $4 a gallon but found it yielded a ripple effect of cost-saving benefits beyond that.
"We saved about 20 percent on fuel costs, but it snowballed into a 20-percent savings on other things, such as on-site clean-up time, travel costs, time spent loading and unloading equipment and materials. Plus, if it rains, we can still get 40 hours of work in a week by coming in on a Friday. It helped reduce overtime hours, too."
Hanauer also notes he emphasizes on-the-job safety with a training program that's paid dividends in two ways: It reduced employee injuries and decreased workers' compensation-insurance costs by 40 percent during the past five years.
Above all else, though, it's clear Hanauer is passionate about his work and prides himself on meticulous landscape designs that provide an oasis for customers to savor.
"I really strive to create spaces my customers will enjoy forever," he says. "One day, as we were building a permeable-paver patio, I asked my guys to come and stand together and take a look at our work…I told them the customer will be out here on weekends, enjoying this space, and will always remember that they created it. I know it sounds corny, but that's what I love most about this job."
Read Hanauer's five keys to success, and to see more project photos from Hanauer, visit the gallery.

Apply to be this year's Landscaper of the Year.
By Ken Wysocky