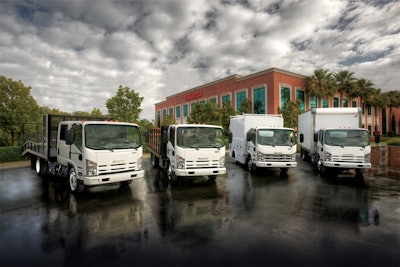 Isuzu Commercial Truck of America is celebrating 30 years of Isuzu trucks in the U.S. market.
A special ceremony will happen during the National Truck Equipment Association's 2014 Work Truck Show in Indianapolis, Indiana.
As part of the anniversary celebration, Isuzu announced that it will continue the 24/60 Covered Maintenance Program for new Isuzu diesel trucks purchased by June 2014- providing maintenance for 24 months or 60,000 miles, whichever comes first.
To help with the celebration, Isuzu senior management will meet with dealers during a series of whistle-stop meetings later in March, and additionally will conduct a celebratory dealer meeting in Albuquerque, New Mexico, in October.
The KS22, the first Isuzu truck in America, arrived at the Port of Jacksonville, Florida on Nov. 10, 1984. It had no tilt cab and was powered by an 87-horsepower engine.
Highlights of Isuzu Truck History
2014: Isuzu trucks' 30th anniversary in the U.S.
2013: Isuzu N-Series is named Medium-Duty Truck of the Year by Work Truck magazine
2012: Reach is named Medium-Duty Truck of the Year by Work Truck Magazine
2011: Reach, the walk-in van powered by Isuzu, begins production in Wakarusa, Indiana.
2010: Isuzu N-Series trucks are the first trucks in their class to be EPA 2010 and CARB HD-OBD compliant, and to be 50-state clean-idle certified
2005: The 50,000th N/W-Series gasoline-powered truck is built in Janesville, Wisconsin.
2002: Cumulative sales of Isuzu trucks in the United States exceed 275,000 units.
1994: The first American-assembled gasoline-powered NPR-EFI is assembled in Janesville, Wisconsin.
1986: R.L. Polk certifies Isuzu trucks as the best-selling import commercial truck in the United States.
1984: Isuzu trucks enter the U.S. market with the KS22.
1959: Isuzu Motors Limited introduces the world's first two-ton light-duty low cab forward truck, the first-generation of a line of vehicles now marketed in the United States as the N-Series.
1955: Isuzu diesel engines, diesel-powered snow tractors and other equipment are delivered to Japan's Antarctic Observation Base.
1936: First air-cooled diesel engine built in Japan by Isuzu Motors Limited.
1919: First truck in Japan built by the predecessor of Isuzu Motors Limited.