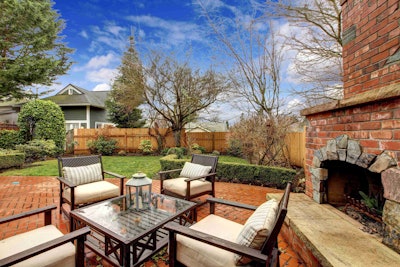 Outdoor spaces are easy to enjoy when the weather is warm and the sun is shining. But when it's raining or cold, those same enjoyable spaces can become a lot less enticing.
Creating a weatherproof space for your clients can enable them to relax, entertain and enjoy their outdoor living space throughout the seasons.
Here are some tips to keep in mind when working with clients to create an outdoor space that they will enjoy for many months of the year.
Beat the heat with shade structures. Climbing temperatures in July and August may have previously sent your clients indoors to the air conditioning. But they don't have to miss out on enjoying their decks and patios during the hottest months of summer. Shade structures protect outdoor living areas from the hot summer sun, keeping the temperatures more comfortable. A patio enclosure with blinds is an ideal way to control the amount of sunlight that comes into your outdoor space, while also protecting clients from other elements, such as rain and wind.
Get coverage with umbrellas and awnings. If a full or partial enclosure is more than clients wish to have, coverage from an umbrella or awning is also an option. Retractable awnings are especially popular among clients who want to be able to control the amount of coverage they have in accordance with the weather conditions. In addition to providing protection from the rain, an umbrella or awning can also be a nice complement to a homeowner's outdoor living space.
Warm it up with a fireplace or fire pit. Help clients extend the enjoyment they receive from their outdoor living spaces by installing a fireplace or fire pit. Either of these weatherproofing options serve multiple functions. In addition to providing warmth on a cool spring or autumn day, they can also be used for lighting and cooking. An outdoor fireplace or fire pit can become the focal point of a patio or backyard, and give clients a beautiful, functional option for entertaining.
Landscaping with weather in mind. The trees, shrubs, and plants that grow around a homeowner's outdoor living space can also do double-duty as shelter from weather, while adding beauty to the backyard. Plant shade trees in areas with southern exposure and all-day summer sun. A row of arborvitae can serve as a wind break along one side of a deck or patio. Work together with your clients to determine what types of weather they want to have less or more of so you can make informed suggestions regarding the types of plants and landscaping that could help.
Keep it low maintenance with weatherproof furniture. Weatherproof furniture can make a client's enjoyment of their outdoor space a lot easier to achieve. Although homeowners should never leave deck furniture out all year round (or when it's not used for prolonged periods), furniture that stands up to inclement weather is a big benefit. Suggest that your clients try stained or treated woods that won't fade due to the sun or rain. Waterproof cushions will fare better in areas that are humid or have more precipitation. The use of waterproof furniture in the outdoor space design you create for clients makes it more convenient for them to enjoy the spaces you're helping them bring to life.
Jeff Caldwell is Brand Manager of Superior Shade in Carrollton, Georgia. Superior Shade provides protection from the elements with products like umbrellas, shade sails, and shade hips, that provide protection from the sun and harmful UV rays.