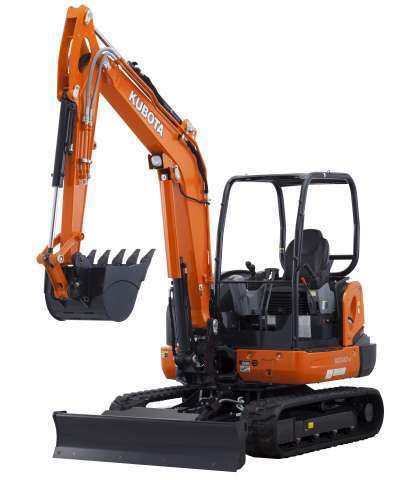 Adding to its lineup, the Kubota Tractor Corporation introduced the Hydraulic 6-in-1 Blade for the KXO40-4 compact excavator.
Featuring six different positions, the blade's capacity has increased to approximately .75 cubic yards.
The six positions include left-end up, right-end up, left-end forward, right-end forward, raised and lowered.
By moving the dozer lever, operators can angle the blade right or left to push materials aside while the machine moves forward, which eliminates the need for continuous right-angle positioning while backfilling trenches.
Additionally, the operator can control all six functions at the same time.
A rocker switch at the top of the blade control can tilt the blade 10 degrees up or down. Operators can also simultaneously twist the control handle to angle the blade 25 degrees left or right.
The blade is 5 feet, 10.9 inches wide, which stretches the width of the machine, even when tilted.
To help keep material out of the space between the blade and the tracks, the blade is 2 inches wider than the track width on each side.
To help protect the blade during dozing operations, it is equipped with a Bolt-On Cutting Edge (BOE).
Additionally, the tilt cylinder is covered for protection, and the reversible cutting edge is divided into two sections to invert the edge for continued use.
The machine blade's plates help the tie-down point's strength and allows operators to use them as lifting points, along with the lifting point on top of the boom for three-point craning.