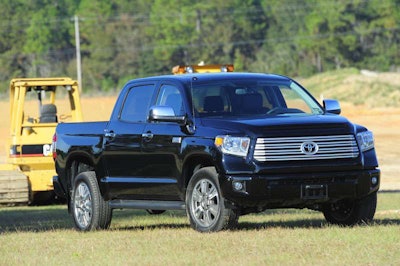 Toyota has issued recalls on both its full-size and midsize pickups over separate issues.
The first recall deals with the 2014 Tundra. Toyota has issued a recall on 130,000 Tundra CrewMax and double cab pickups in the U.S. due to a defect with a piece of interior trim that could interfere with the deployment of the pickup's side curtain airbags.
In a statement posted on its website, Toyota says "the possible misinstallation of a garnish on the center pillars…could interfere with the side curtain airbags in the event of a deployment, which may not allow the airbag to achieve its intended inflated shape."
The automaker is not aware of any crashes, deaths or injuries related to the defect. Tundra owners will be contacted to bring their trucks in where the pillar garnishes will be inspected and replaced if necessary.
Toyota says it will also recall about 20,000 Tacoma pickups and FJ Cruiser SUVs from the 2008-2014 model year equipped with accessory wheels and tires over concerns the vehicles may incorrectly list spare tire size or cold tire inflation information on the tire placard, according to a notice from the National Highway Traffic Safety Administration.
The tires and wheels would have been installed by Toyota or dealers prior to the vehicle's first sale, according to the notice.
Toyota says it will begin notifying owners this month and will provide and overlay sticker to place over the incorrect information on the placard.
Editor's Note: Wayne Grayson is the online editor for sister magazine Equipment World.