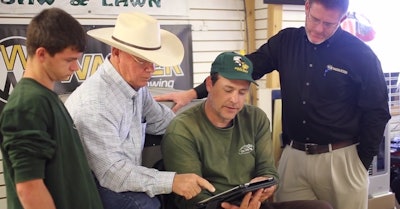 From a pool of more than 300 entrants, Joel Owen of Landsmen Forest, Lawn & Garden in Banner Elk, North Carolina walked away with a Walker Mower Model T25i with a 48-inch collection deck at GIE+EXPO this year.
Entrants visited the Walker booth and used the Walker productivity calculator to see how productive they could be.
"While we feel like we have always provided great service with a product to match, our primary goal at the GIE show was to find products that would enhance our final results even more," Owen says. "We have always been familiar with the Walker family of mowers but maybe thought we had to focus on walk behinds and other zero turns.
"The guys in the booth did a great job of not only helping differentiate between those that look like Walkers but the earning potential for our company towards productivity. Improved results and increased profit… win/win."
Kohler Engines also donated the EFI engine for the mower that was given away.