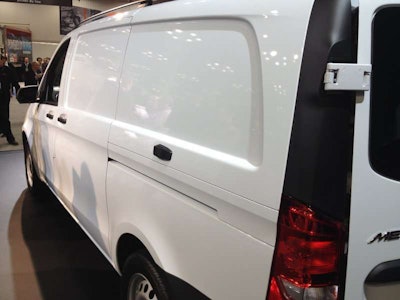 Metris will arrive at U.S. dealers in October, and is the U.S. and Canadian sibling to Mercedes' Vito, which will remain the mid-size commercial van for all other global markets.
Mathias Geisen, general manager product management & marketing for Mercedes-Benz Vans USA, says Metris fills a niche in the commercial van segment in that "Metris is larger than small commercial vans, but smaller than a large van (but) has the capability a of larger van."specs
Geisen says the company expects an even split of passenger and cargo van sales in the years ahead, but expects urban delivery services to embrace the van's cargo capacity and compact size.
"We've seen an increase in urban delivery services, which require maximum cargo and payload space but also have to be parkable," he says.
Geisen says Metris can easily fit into a parking garages, also meeting the needs of those who work out of their homes.
Cargo van configurations start at $28,950, and the passenger van starts at $32,500 (excluding $995 destination/delivery charge for both vans).
Metris will be available with a 4-cylinder gasoline engine that has 208 hp and 258 lb-ft of torque, mated to a 7-speedrear-wheel drive automatic transmission.
The powertrain application with optional ECO start/stop, Geisen says, was developed specifically for the U.S. and Canadian markets.
Editor's Note: Jason Cannon serves as the Online Managing Editor for sister site Hard Working Trucks