Reeling from the recession, this Santa Fe Landscaper refused to give up on his dream
Quality. Honesty. Integrity. Customer service. They're all words used frequently, sometimes carelessly, by many companies in many industries. For Mark Brotton of Living Water Irrigation and Landscape, the importance of the attributes behind these words hits home. It's a lesson he learned the hard way.
Brotton had always been driven to achieve. As a high school student in Michigan, he and a friend formed a successful lawn care company, which, by his senior year in high school, had more than 50 clients. It was so successful that when he decided to enter the military he was able to sell the company.
Growing a business
After leaving the Navy, Brotton relocated to Santa Fe, New Mexico, in 1995. He worked for others, but he found he was always analyzing his employers' processes and devising ways to streamline operations. He knew he wanted to start his own company. "I wasn't a bad employee, but I found I was always thinking I could do things bigger, better, faster," he says. "I had a fire to be an entrepreneur."
For a few years, his employer received the benefit of his ideas, as Brotton implemented efficiencies. Working with a maintenance crew at a resort, he upgraded everything to a bilingual system and worked on improving the inventory and ticketing system.
In 2001, he formed Living Water Irrigation and Landscape. For Brotton, the name had a double meaning. "I loved how the name tied the elements together," he says. "Spiritually, without Jesus, I die. Without water, plants die."
The company performed specialized work in water conservation and planning, proper irrigation techniques and smart irrigation, along with xeric planting and design. Much of the firm's early work was for local builders, who were undergoing a subdivision boom. Brotton said he felt drawn to irrigation work, though, and wanted to find ways to incorporate smart irrigation systems into unique designs. "It is a system, but when it's put in correctly, it's invisible," he says.
At the time, as now, there were few companies in the Santa Fe area that had a handle on water-wise irrigation, and the company began to grow. Brotton began to pursue several professional certifications in the industry and focused on best practices and jobs done right the first time. The recession wasn't yet on the horizon, and the builders were booming. In 2005, Living Water was in a large office, with 35 employees and lots of brand new equipment.
An ego check
Brotton and his wife, Lisa, who came on board in 2007, look back now and can pinpoint poor decisions. "By '07, the company was heavily in debt," Lisa says. "Everything needed help. We were buying too many new pieces of equipment, making bad payroll decisions and taking on too much credit card debt."
Even worse than the crushing debt, says Brotton, was his ego and attitude. "I was a 'get it done' kind of contractor," he says. "There was an 'expendable' mentality that said to my people, 'I don't care about you.'"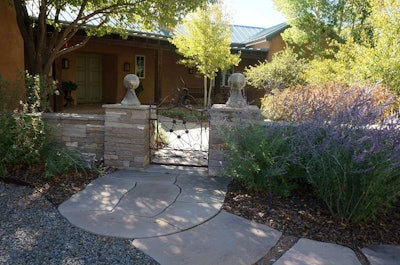 When the economy took a turn for the worse, the work dried up instantly, Brotton says. Planned subdivisions simply went away, and Living Water was facing an incredible challenge with lots of employees, tons of debt, a yard full of expensive equipment and not enough work. "Things started cracking," he says. "My marriage and business were on the ropes, and every door was closing."
Soon, Living Water was facing potential bankruptcy. With the debt, the Brottons were unable to sell the company, so Lisa went to work reducing the company's debt, while Mark went to work on himself. He turned to Celebrate Recovery, a Christ-centered ministry that assists those struggling with a variety of problems. "It healed me and changed me, and I started to see that none of it mattered if I didn't have Lisa and the kids," he says.
For five years, the Brottons didn't know from week-to-week if they were going to survive. They closed the office, pared down the staff and began working from home. "I couldn't quit; that just wasn't a door open to me," he says. Brotton freely admits that if it weren't for Lisa, he'd be living a different story. "Without Lisa, Living Water wouldn't be."
A rebuilding period
Living Water was far from alone, and the Brottons watched many of their colleagues struggle, sell their business or file for bankruptcy. After assessing his situation, Brotton determined consistent maintenance contracts were the key to survival. Even though residential customers had previously only accounted for about 20 percent of Living Water's customer base, he quickly realized an increase in referrals would be crucial, and began to work swinging the pendulum to residential clients – now 90 percent of his clientele.
Slowly, the Brottons began to rebuild their company. Living Water started to take on more custom work and reworked a number of poorly designed irrigation systems. In 2013, things started to click for the Brottons. Living Water took on a large ranch project that Mark calls a "shot in the arm." Reworking the ranch's landscaping included planting, drainage, revegetation and boulder work, for a start, topped off with passive water harvesting and a total update of the irrigation for reduced water use. "The work he's done has been phenomenal," says Desiderio Flores, the ranch manager. "It's a desert, and he's made it look like a tropical jungle. They do beautiful work – above and beyond what I expect."
The ranch project led to additional work, and Brotton used what he'd learned to make crucial changes in the company. He redeveloped the company from his home office, and hired a well-qualified and capable administrative assistant, Lorena Villalovos, to assist Lisa – who was also raising the couple's three children – with a range of back-office tasks, and to take the company's safety program to the next level.
Now viewing Living Water as a niche company for residential and ranches, he began to ensure his employees were cross-trained. He says he now understood that, just because the foreman understands how something works, does not mean it will trickle down to the crew. "A lot happened in 2014," he says. "The buzzword for the year was 'training' and we've got a reinvigorated vision."
The timing is working for the company. With a focus on water conservation and low reservoirs in New Mexico, Living Water's strategies are paying off. With years of experience in high quality irrigation systems, rainwater harvesting, and landscaping using native plants that need little to no watering, the company is poised to offer exactly the services area residents need. "We're taking out a lot of lawns and revising high-water landscapes," he says. He continues to invest in certification programs to back his experience – APLD, Certified Arborist and Certified Landscape Water Manager are next on the list.
Brotton doesn't just pay lip service to water conservation, either. They recycle, reuse and conserve in the home, the office and the field, and create an organic environment if at all possible. Brotton dislikes using chemicals, and substitutes biodegradable and organic products wherever possible. All green waste is recycled, converted to mulch and made available for free to Santa Fe residents. The few items that cannot be recycled, such as hardscape products, are given to crew members or donated.
Considering himself not only a designer but also an industry advocate and visionary, Brotton sees his business as teeming with opportunity to raise water conservation awareness, and also to educate on landscape, irrigation and rainwater harvesting, through all his designs. To go along with the fresh new attitude, the company has new branding, with new logos and a redesigned website.
He's realized what loyalty means, as several employees who were with him during the economic downturn have remained with Living Water. "Relationships matter. Our company is our family," Brotton says. "When I had a health scare in 2009, we called one of our foremen, Martin Serrano, in the middle of the night to take care of our kids." He also promotes from within when he can. Lorenzo Mendez, a 13-year veteran with Living Water, approached Brotton about specializing in maintenance, and today he is on track to run the department. "He's exceptional," Brotton says of Mendez.
The Brottons are more excited than they've ever been about the future of the company. "I'm having more fun than I've ever had," he says. "A lot has happened, but this is our coming-out party."
To view more photos from Living Water, view the gallery below.