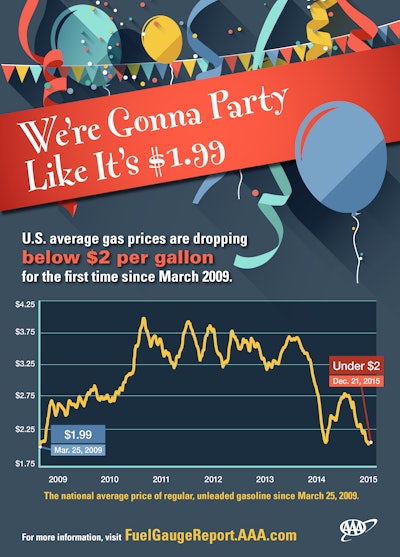 Today's national average price of gasoline in the United States is $1.998 per gallon, dropping below $2 for the first time since March 25, 2009, according to AAA.
Even at this time of year, when mowers and string trimmers may be spending more time in storage than on the job, the price of gasoline affects landscape contractors on many fronts, from tree-trimming to snow removal, not to mention trucks.
AAA estimates Americans have saved more than $115 billion on gasoline so far this year, which works out to more than $550 per licensed driver. The association predicts that more than 91 million Americans will take advantage of cheaper gas prices to drive 50 miles or more during the holidays.
Marshall Doney, AAA's president and CEO, called the lowest gas prices in nearly seven years "a holiday gift" that few consumers could have imagined when gasoline was $4 a gallon.
"The best news of all," Doney said, "is that there is room for prices to drop even more in the coming weeks."
AAA reports that more than two-thirds of U.S. stations already are selling gas under $2 per gallon, and drivers can find at least one station selling gas for less than that price in 47 states.
Gas prices already are much cheaper than $2 per gallon in most parts of the country.