As spring progresses toward summertime, Syngenta has announced it will continue its "SecureChoice" Mosquito Assurance Program. Syngenta markets the program to lawn-care companies as an opportunity to grow their customer base and generate additional revenue with a unique 60-day treatment cycle.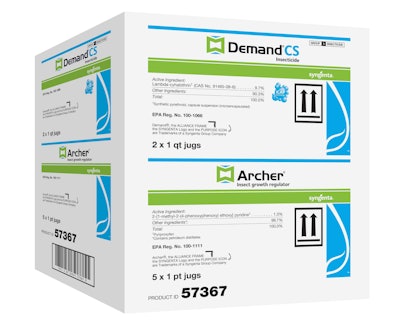 Unlike other services that offer 21-day or 30-day mosquito control, Syngenta says, the SecureChoice Mosquito Assurance Program provides control for up to 60 days. With the combination of Demand CS insecticide and Archer insect growth regulator, this treatment can help reduce mosquito populations around lawn-care customers' properties for nearly three times as long.
"We know lawn-care operators are always looking for ways to enhance their business offerings in a crowded marketplace," said Steve Dorer, market manager, Professional Pest Management (PPM), for Syngenta in North America.
Syngenta says Demand CS provides immediate and residual control of mosquitoes, while Archer interrupts the reproduction cycle of mosquitoes. The Demand CS + Archer Multipak, which contains two quarts of Demand CS and five pints of Archer, can be used as part of the SecureChoice Mosquito Assurance Program. If applications of Demand CS and Archer fail to provide adequate reduction of mosquito populations during the 60-day treatment period, Syngenta PPM will provide the appropriate quantity of Demand CS and Archer to cover the necessary retreatment(s).
Lawn-care companies can participate in the program by purchasing and applying Demand CS and Archer before Nov. 30.
Syngenta says Demand CS, Archer and the Multipak also count as qualifying purchases for its 2016 PestPartners 365 Program, which offers yearlong rebate savings for lawn-care companies that qualify by April 30, 2016.
For information about the programs, contact the Syngenta Customer Center at 1-866-796-4368 or visit SyngentaPMP.com.