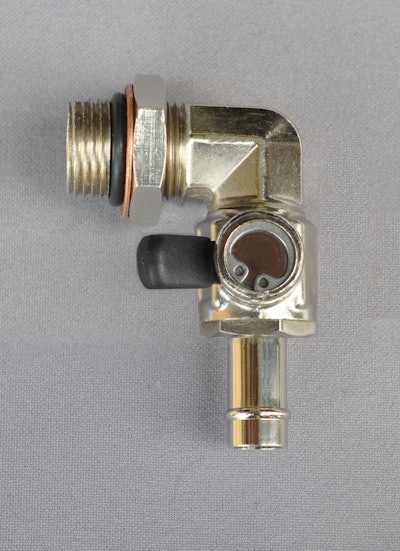 Global Sales Group, the company behind the EZ Drain Valve, says it's mainly used to drain engine oil but works just fine in draining other types of fluids, such as gasoline or diesel fuel, transmission oil, coolant, or even water from the fuel tank.
The valve is designed to work in tight spaces, requiring less than 40 millimeters (about 1.5 inches) of space to install, and the direction of the drain can be fully adjusted.
A new lock nut option on the EZ Drain Valve provides full adjustment of the final position of the valve, according to the manufacturer. This allows operators to install the valve in any position they prefer and offers flexible draining options.
For more details about the product, visit the website here.
DICA offers bright-colored outrigger pads
DICA, manufacturer of SafetyTech outrigger pads, has introduced a new product line designed for the high visibility needs of the tree-care and utility industries.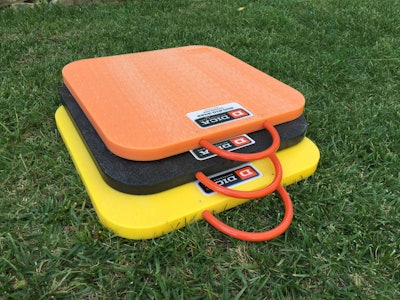 Yellow and orange SafetyTech outrigger pads have been available from DICA as a custom option for a number of years. Kris Koberg, the company's CEO, said the steady rise in demand for the brightly colored models indicated it was "the right time to add them to our standard SafetyTech line …"
DICA says the high-visibility colors function as a reminder to think and act safely when setting up equipment on outrigger pads. And because both yellow and orange contrast with the ground and paved surfaces, the company says, there's less chance of pads being lost.
Made from thermoplastic material, yellow and orange D1818 and D2424 outrigger pads are designed for stabilizer enabled equipment, which are common in tree-care and electric utility applications.
The pads are available in 18x18x1 inch and 24x24x1 inch sizes. They are medium-duty models with strength capacity of 100,000 pounds, and they're guaranteed to be unbreakable.
DICA says the full line of SafetyTech outrigger pads, including heavy duty models, can be special ordered in yellow or orange.