Lake Erie Portable Screeners recently introduced a propane-powered screener, the Pitbull 2300 Propane Screening Plant, or 2300P, which the manufacturer says is one of the first machines of its kind.
The Pitbull 2300P's low-emission propane components provide an alternative to diesel equipment, which has been subject to price increases due to Tier 4 Final emissions standards, according to Lake Erie Portable Screeners.
The propane-powered machine is highly efficient and provides high outputs with a wide range of materials, including topsoil, mulch, gravel, stone and asphalt, the company says.
"While we want to offer the market a low-emission, green product that performs with power, we recognized that the Tier 4 regulations on diesel engines were driving costs up. Our team looked for another solution," said Stuart Foradora, Lake Erie Portable Screeners factory representative.
The Pitbull 2300P is almost the same machine as the Pitbull 2300, aside from the power source. Featuring a Zenith 1.6-liter, four-cylinder, 48-horsepower propane engine, it can do any job its diesel-powered counterpart can, Foradora says.
Lake Erie Portable Screeners says Tier 4 Final diesel engines of the same size typically cost at least 30 percent more.
The low emissions make the Pitbull 2300P ideal for operation in confined spaces, such as buildings and mine shafts, and eliminate the need to obtain special permits, the manufacturer says. The propane engine is also quieter than most diesels.
The Pitbull 2300P includes full hydraulic operation, tubular frame construction, a Torflex axle and a reversible shaker. The machine is 8 feet, 4 1/2 inches wide and fitted with either a standard pintle hitch or an optional gooseneck towing package.
When the machine is ready to be moved, the operator can return it back to towing position with the flip of a lever, according to Lake Erie Portable Screeners. The unit also features heavy-duty suspension, electric brakes and trailer lights for safe and legal travel.
The Pitbull 2300P's 20-foot-long stacking conveyor adjusts hydraulically from as low as 7 feet, 6 inches, up to 13 feet to feed material directly into a dump truck or tri-axle trailer. The height of the conveyor also allows operators to create bigger stockpiles, increasing efficiency by reducing the number of times equipment needs to be moved.
For more details on the Pitbull 2300P, visit the manufacturer's website here.
Jenny Products compressors earn UL listing
Jenny Products Inc. has achieved the "UL Listed" designation from Underwriter Laboratories (UL) on the company's full line of electric motor piston air compressors. This standard, in conjunction with other recent certifications, signifies that Jenny electric air compressors have reached an unprecedented level of safety in the industry, the manufacturer says.
To be UL Listed means Jenny electric air compressors have been tested and determined to meet UL's strict requirements. Going forward, all Jenny electric piston air compressors will carry both UL and Canadian Standards Association (CSA) marks.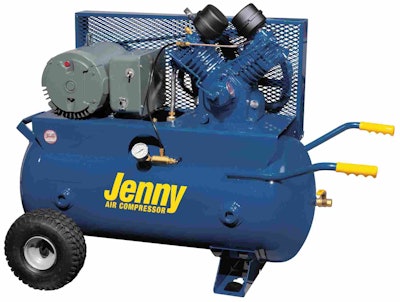 "It takes significant investment and effort to be UL Listed, and receiving approval from both UL and CSA is a proud milestone that speaks to the inherent safety of Jenny air compressors," said Daniel Leiss, president of Jenny Products.
With roots dating back to the 1870s, Jenny Products has been an OEM manufacturer for several major manufacturers of air compressors. Today, the company manufactures and markets its own line of hand-carry, wheeled-portable and industrial-stationary air compressors.
Artificial hedge company broadens offering
Hedged In, a U.K. supplier of artificial hedges, has broadened its product line, boasting of botanically accurate artificial foliage for both garden and indoor walls, decorative window boxes and of course traditional hedges.
The company says its products are easy to install, low maintenance and UV resistant.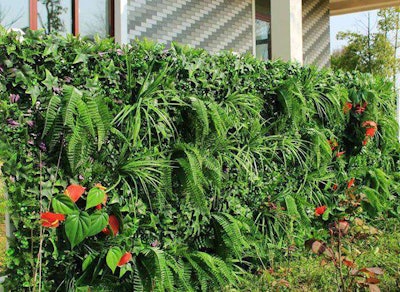 Exterior applications featuring artificial hedges, plants, flowers and grass are becoming more popular due to water restrictions and the rising cost of replacing natural plants, the company says.
Hedged In says buyers should beware of any artificial material sold for outdoor use that is not UV stabilized.
The plastics in genuinely exterior-grade foliage incorporate a chemical that protects the material against ultraviolet light. The chemical is incorporated at the polymer stage, not added later, so it becomes part of the basic material.