Garza's Green Grass Lawncare & Landscaping LLC is one of the six finalists in Total Landscape Care's photo contest, Landscaper Showcase, and the project they chose was a complete front yard renovation. It was installed earlier this year.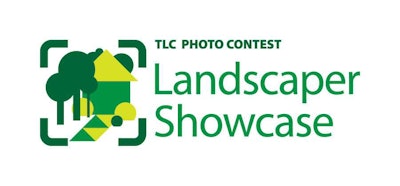 The project in Norman, Oklahoma, started with the removal of a large tree in the front yard. The homeowners had just purchased the house and were renovating the inside when they decided the yard needed attention as well.
Once the tree was gone, it became apparent that sod needed to be laid. About half the yard had been taken over by ivy. Garza's Green Grass not only took the tree down, but they created new flower beds, installed new trees, shrubs and perennials as well as an irrigation system and then fescue.
"We don't normally do complete overhaul landscapes," said Brandi Garner, director of operations for Garza's Green Grass. "We've done it for other people, but usually people hire us to redo part of the flowerbeds."
From design to completion, the project took about three months, while the physical work took about two and a half weeks, according to Garner.
One of the most challenging aspects of the job was removing the tree, as it was well-established and at least 50 years old. The owners would have preferred to keep it, but the tree was not in good condition and storms always left behind broken branches, making it a hazard.
Out of the seven employees who worked on the project, it took three of them using manual tools to remove the tree's root system and level the ground.
The clients had hired the company because they knew they wanted some of the plants Garza's Green Grass uses often in their landscapes, but Garner feels the finished product greatly exceeded their expectations.
"We still maintain the property," she said, "so that's just a testament to how pleased they were."
Garza's Green Grass has been in business for more than 20 years and serves the Oklahoma City metro area and Lawton. It offers lawn care maintenance services along with landscape design, hardscaping and snow removal.
One of the reasons Garza's Green Grass says customers should choose them is their employees' commitment to continual improvement and this project is a reflection of that desire.
"I think that it demonstrates that we've come a long way as a company," Garner said. "We put a lot of work and effort into a couple revisions until we got it right, we used the best plants available, we just put a lot of hard work and effort into it."
EDITOR'S NOTE: This is the second in a series of stories on the finalists in TLC's Landscaper Showcase contest. In the coming days, once we've reviewed all the finalists, we'll be asking for you to vote for your favorite. Click here to view the first finalist.