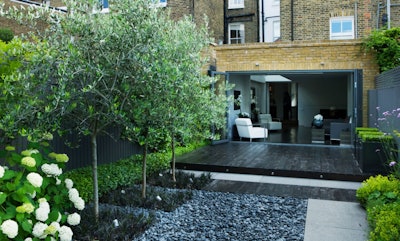 These days, the garden is typically viewed as an extension of the home rather than a separate area. This helps to blur the boundary between inside and out, ensuring any external area operates as additional living space as soon as the weather allows.
As black has been a hugely popular shade to use inside in recent years, it makes sense to work it into a garden as well. From seating and planters to the architecture of the space, black looks hugely stylish and is surprisingly versatile too. Here are 10 reasons to try it.
1. It creates a dramatic backdrop to green. Just as hanging an artwork against a darkly painted wall helps it shine, a black backdrop is the perfect dramatic contrast to foliage. Try painting fencing or a wall black and enjoy how the planting in front is beautifully highlighted.
2. It's both contemporary and traditional. Wood stained in rich black, as used on this striking addition, looks contemporary without being too edgy. Perhaps that's because black is also a traditional finish used on many buildings, from barns to seaside shacks. Black wood references this vernacular tradition.
3. It adds a flash of drama. Black isn't always top of the list for inclusion in a garden, so its use still feels unexpected and dramatic. Just look at these striking black planters. They add structure and glamour to this garden space without fighting with the lush planting.
4. It creates a beautiful focal point. Black draws the eye, but unlike a bright color or shiny material, it will not shock or jar, so it's extremely versatile. Here, a black globe sculpture makes an unusual and artistic focal point without screaming for attention or overpowering the planting scheme. A black dog is an optional extra!
5. It ties in with architecture. If black is featured on your property, reference that with a few black pieces in the outside space. Choosing black garden furniture or planters will create a unified feel outside, which is particularly helpful in a small space.
6. It helps merge inside and out. Blurring the boundaries between inside and out can boost a home's sense of space, with the garden and interior rooms flowing together.
To help this happen, choose a color scheme outdoors that marries with the one used inside. Here, a mix of black, white and gray runs from the living room into the garden. It helps the spaces merge and also creates a thoroughly coordinated and chic feel.
7. It changes with the weather. Some naturally dark materials will become inky when wet. Slate paving stones that are gray when dry become luxuriously black in the rain, allowing you to work black into your garden, but only on a temporary basis.
8. It can make over modest materials. We are super-familiar with the concept of a fresh coat of paint reviving a tired interior, but we sometimes forget that the same applies outside. Even the grungiest garden wall or drabbest fence can be beautified with a layer or two of exterior paint.
A solid block of color adds drama, a point of focus and a fresh feel to a garden. Try black for a really strong, defined backdrop that's nevertheless easy to live with.
9. It zones a garden. Dark furniture against pale paving powerfully zones the seating area in this garden. Together with minimal planting, it marks this out as a space where sitting and socializing is the priority.
10. It can weather well. Dampness, rain, sun and frost can all take their toll on garden furniture and landscaping. Black elements in a garden are more likely to weather well than pale colors or natural wood, which can fade or become dirty.
EDITOR'S NOTE: This article was written by Joanna Simmons. This article is from Houzz. Simmons is an interiors journalist who covers ideas and trends and interviews designers and professionals for their insights.