Turfco has unveiled its new zero-turn stand-on aerator as a solution to landscapers who want to increase their aeration productivity and minimize downtime.
The TurnAer XT8 can cover over two acres in an hour, and has intuitive controls for navigating residential, commercial and sports turf. It can reach speeds up to 7 mph and is nimble with its zero-turn ability.
"Aeration often needs to be done in a compressed period of time and the XT8 was created in response to the need to get the job done quickly," said Scott Kinkead, executive vice president of Turfco. "We also designed it with our signature durability because downtime isn't something lawn care professionals can afford during aeration season."
Another feature that aids with productivity is the patent-pending Auto-Depth Control. Users can set tine depth from zero to five inches and the machine will maintain the depth across a property despite turf conditions.
The TurnAer XT8 is powered by a 22-horsepower Briggs & Stratton engine that comes with a three-year warranty.
Its 30" aerating width allows it to fit through 48" gates and it has raised ground clearance to help clear most curbs.
To prevent unnecessary downtime, the XT8 is designed with the chains outside of the aeration area. This stops debris from getting in the wheels and chains. Chain tensioners are easily accessible to make maintenance simple for operators.
For more information about the XT8, call 800-679-8201.
Valley Industries adds 200-gallon space saver sprayer
Valley Industries latest space saver sprayer for lawn care professionals boasts of new never-before-seen features.
"The space saver sprayer is nothing new," said Peter Gustin, Valley Industries pump application specialist. "But with all the improvements we've made to the original Lesco design, operators can expect a whole new level of performance with almost no downtime."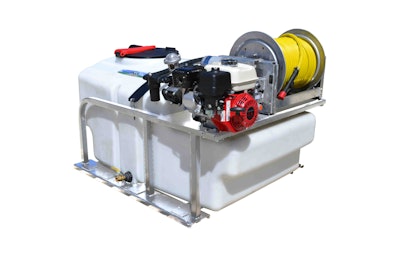 The Master Manufacturing 200-gallon space saver sprayer comes with a plastic coated Comet APS41 triple diaphragm pump, which utilizes DURAphragm Technology, and an oversized Honda GX200 engine.
It also introduces the Valley Industries' hose reel design using Hardcore Technology. The hose reel is made of heavy duty aircraft grade aluminum and a chainless and sprocket-less direct drive system. It comes with a lifetime core warranty.
This new space saver spreader includes forward facing controls for easy access the pump and hose reel, and the driver's side fill well for straightforward chemical mixing.
Master Manufacturing is brand of Valley Industries, for more information visit their website here.