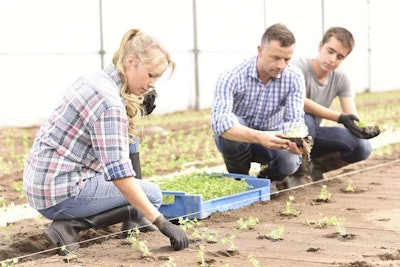 Last year the Associated Landscape Contractors of Colorado (ALCC) launched its Career Pathways Program and now it has teamed up with a number of high schools to introduce students to the green industry.
The Career Pathways Program was created in response to Colorado landscapers' severe labor shortage and booming business opportunities. According the ALCC the shortage of skilled workers is the worst it's been since 2009.
"There's so much growth and development in Colorado right now," Becky Garber, ALCC's Career Pathways program coordinator, told The Greeley Tribune. "There's great opportunity for companies to do work here – we've come through the recession. Quite frankly, many of our members could do a lot more work if they had more trained and qualified people to do it."
ALCC collaborates with the Colorado Community College System to train Career and Technical Education high school teachers on landscaping and in turn the teachers are able to instruct their students in hands-on tasks such as building and maintaining an irrigation system.
"That's the true benefits of this program," said Michael Womocil, spokesman for Colorado Community College System. "When (students) do graduate from high school, they have an idea of what career they want to pursue and they know what that career is. By that point, they have developed the foundation of knowledge and skills necessary for entry-level into that career."
The program is currently in place at Green Mountain High School in Lakewood, Platte Valley High School in Kersey, Falcon High School in Colorado Springs, Westminster High School in Westminster, Englewood High School in Englewood and Greeley West High School in Greeley.
Greeley West instructor Samantha Maxwell plans to attend as many ALCC workshops as possible so she can expand the program. She is currently working towards being able to present students in the program a specialized training certificate that highlights their qualifications.
"This is my passion," Maxwell said. "The program teaches real skills students can put on their resumes. It feels good to be a part of something like this."
Around 80 students are currently participating in the Career Pathways program at Greeley West and Michael Mioduski is one of the students considering a job in the green industry.
"A lot of people think the world is dark and has no light to it, but flowers, trees and vegetables can help them get away from that for a little while," he said. "That's why (landscaping) is important."
Brandon Ibarra is another student who has become interested in landscaping thanks to Maxwell's lessons. He wants to focus on the design and engineering aspect of landscaping and create greenhouses and hydroponic systems.
According to Garber, ALCC polled its members last year and found 59 percent were exposed to some sort of landscaping job in high school. Eaton Grove Nursery and Garden Center is one of the companies that welcomes the program and its assistance.
"It is vital, actually, to introduce high school age kids to the industry because there are a lot of job opportunities that they would probably pass right by and not know anything about," said Ken Olsen, co-owner of Eaton Grove Nursery and Garden Center.