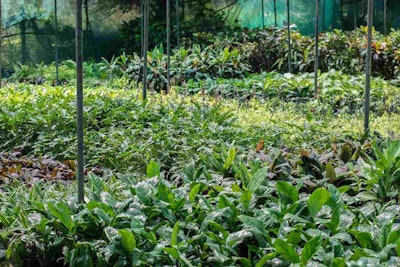 Winds of change are blowing through California plant nurseries and the growers who supply them.
A spate of closures has swept through independent retail nurseries recently, especially on the Central Coast and in the San Francisco Bay Area. The casualties include McShane's Nursery & Landscape Supply in Salinas, where owner Steve McShane announced last month his retail nursery will close Sept. 30.
"I think the bigger picture, and greater issue, is the fact that nursery, as a hobby, is in decline," said McShane, who has long been active in state and national nursery trade groups. "Of course, there will always be commercial application in nursery products for office parks and new construction. But when it comes to free time, people are constantly bombarded by new forms of media that are less expensive and tailor-made when it comes to their time."
McShane said the impact on retail nurseries has "really been felt" in the last three years.
"Within just a hundred miles of here, it seems there's near a dozen independent garden centers that have gone out of business," he said.
Though the McShane nursery is closing, its landscape supply business will keep going.
"We have made the decision to focus more on landscape supply," he said. "Rock, bark, pavers: Those sorts of products are where the market's headed."
McShane said his typical customers, particularly younger ones who are first-time homebuyers, now are attracted to plants he described as "easy to care for, drought-tolerant and not too hard on the pocketbook."
Soaring real estate prices are a factor, as well, according to Julie Sadell, a sales representative for Modesto-based Hollandia Nursery, whose territory includes the San Francisco Peninsula and the Monterey Bay region.
"Some of the older nursery owners, they're in their senior years and they're sitting on a piece of property that's worth absolutely millions and millions of dollars," she said.
In addition, Claire Butler, who owns Meadowlark Nursery in Hollister, said it's "really hard to make a profit" in the nursery business.
"The economy was bad for quite a few years, and then the drought hit," she said, adding that big-box stores, drugstores and grocery stores all carry plants nowadays.
Growers of nursery stock have been scrambling to adapt, but such adaptation takes time. Turning a cutting or seedling into a market-ready plant takes a couple of years, said David Van Klaveren, who with his brothers runs Hollandia Nursery.
"You have to project three years in the future," said Van Klaveren, who also is president of the Stanislaus County Farm Bureau. "What's the weather going to be like? What's going to be the trend? What are people going to want?"
Because of that, Van Klaveren carries nearly 1,000 varieties at the wholesale business his father, Henry, founded 60 years ago. Some of the plants at Hollandia, such as boxwoods and dwarf olive trees, are being grown in clay pots. Van Klaveren said plants such as these are rising in popularity.
McShane agreed.
"The trend is toward container gardens," he said. "Folks are very much drawn toward smaller projects that, again, are not hard on the pocketbook and require less time, less maintenance."
Backyards in newer construction are smaller, he added, and Sadell said housing affordability affects sales possibilities.
"The younger generation—good luck for them to even be able to get a home that they can actually spend the time and the money to work on," she said. "So many of them are renters—apartments, condos. I think the young people are going more for portable gardens, balcony gardens."
The recently ended drought drove many people to seek landscape plants that tolerate dry weather.
"When the drought got serious, we took a hard look at our list and determined what plants that we already grew were low water usage and identified them as such, and that was a benefit to our clientele," Van Klaveren said, adding that with the drought still fresh on people's minds, he has begun growing California natives and high-desert plants.
Judy McClure, program coordinator for the University of California Cooperative Extension Master Gardeners program in Sacramento County, said drought tolerance remains a popular subject.
"The increase in water meter installations and the routine bill sent by the water provider keep water conservation on the front burner," McClure said. "Low-maintenance plants remain popular because of our aging population and increasing demands on everyone's time."
Raising homegrown fruits and vegetables is also growing in popularity, she added, with summer and fall vegetables, blueberries, fruit trees and caneberries being popular with gardeners in her program.
"We are also receiving a high number of inquiries for information on replacing ornamental trees that were damaged during the drought years and/or during this past winter's heavy rains," McClure said, along with inquiries about plants that attract beneficial insects.
Butler said she sees many of these decisions being outsourced.
"I think the trend right now is for people to hire a landscaper, and the landscaper goes to the broker-type nursery and buys all the plants," she said.
"It really is upsetting for me because I'm losing all my customers, all the nurseries that I used to sell to," Butler added. "A lot of them have gone out of business, and it's kind of forced me to change the plant palette that I grow."
For his part, Van Klaveren said people in the nursery business have to love it and work hard to be successful, "but it can be done."
"I don't think that it's declining," he said. "It's just a shift of the next generation learning about hard work and the love of horticulture."
EDITOR'S NOTE: This article was written by Kevin Hecteman, assistant editor of Ag Alert. This story is provided by the California Farm Bureau Federation.