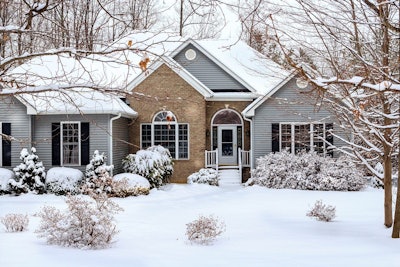 One of the best things you can do to ensure a beautiful, healthy, and thriving spring landscape is to properly put your client's yard and plants to bed now before the harsh weather arrives.
These tips will help you prioritize what needs to be done before the snow flies.
In the yard
Prune back shrubs in late fall (after a couple of frosts) to keep them protected from winds and heavy snow and encourage healthy spring growth.
Wait to prune and shape trees until after they have gone dormant.
Harvest all fruit from trees and the ground to prevent it from rotting over the winter, attracting pests and diseases.
Mulch around trees to help moderate the soil temperature and prevent the loss of moisture. Adding a good fertilizer will help promote root growth for robust new growth in the spring.
Wrapping trees from top to bottom can help prevent sunscald and damage from deer and other animals throughout the winter.
Fall is the perfect time to plant new trees and shrubs. Young trees have a chance to become established before the heat of summer, and the cooler temperatures help promote new root growth.
Remove all diseased or dead branches and trees from the yard before they become a problem next year. If they're too large or hard to reach, hire a certified tree removal company to do it for you.
Don't forget to water the lawn, trees and perennials during dry spells. Even while dormant, plants need water to survive.
Rake up leaves and dead grass periodically throughout the fall and winter. A buildup of debris on a lawn can harbor pests and fungal disease, prevent proper drainage and suffocate the grass below.
Aerating and fertilizing lawns before winter sets in is a good way to stimulate root growth and encourage a healthy yard next spring.
In the garden
Pull up vegetables and annuals that are done for the season and discard or compost them. Leaving them in the ground during the winter encourages pests and disease.
Remove any lingering weeds now; some weeds can overwinter and go to seed early the next spring.
Layer mulch on garden beds and ornamental shrubs. Leaves or straw work well as a winter cover, or you can use burlap sacks, which should be removed in early spring. This helps the soil to hold in heat and moisture, while suppressing weed germination the following season.
Cut back on the amount of work next spring and prepare garden beds now. Adding compost and manure in the fall allows the freezing and thawing cycle to work it into the soil for you.
Tilling garden soil before the ground freezes helps to prevent dormant insects from taking residence in your client's garden during the winter (and at the same time, provides a nice snack for the birds).
In the tool shed
Now's the time to clean and disinfect garden tools and pots by removing caked on soil, rinsing them with bleach (to prevent the spread of disease) and storing them in a sheltered place.
Take note of which garden supplies need to be replenished and purchase them now at a discount.
When it comes to your customers' yards, a little work now will make for a beautiful spring. When their landscapes are properly "put to bed" for the winter, it will be healthier and require less maintenance next year.
EDITOR'S NOTE: This article was written by John Lang, a Certified Arborist and a member of the Friendly Tree team, a family-owned New Jersey tree care service dedicated to the thoughtful and careful maintenance of trees and shrubs. Friendly Tree Service has been in business for over 26 years and remains passionate about trees and nature. With a highly trained staff that treats every property as their own and state of the art equipment, Friendly Tree is on the cutting edge of the art and science of arboriculture.