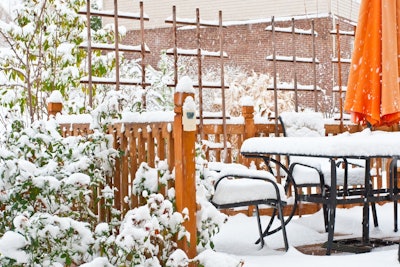 With winter not too far off, it's time to take stock of which of your customers will need to think about winterizing their patios.
As the weather gets colder, it's always a good idea to get a jump on winter patio prep before it's too late. When gearing up to take on this task, there are a few simple tips to keep in mind.
Keep the furniture safe and covered
For every patio out there, there's some outdoor furniture to accompany it. Typically, this type of furniture is made to withstand the elements of rain and wind, but snow and freezing temperatures might not agree with it as much.
For customers with wicker furniture, recommend they store these items in a dry shed or garage. For those with weather-resistant furniture such as teak, it's still a good idea to move them to an area that's sheltered. Stacking it under an eave or in a spot where it's out of the way of oncoming wind is a recommended option.
Many stores do sell custom covers for outdoor furniture, but if your customers are on a budget, consider inexpensive generic options. Checking in local stores or online can yield results, but be sure to know what kind of furniture your customers need to cover, as many types have a specific fit that needs to be accommodated.
Checking and cleaning
For customers who have decking and wood floors, these items may need a bit of maintenance. Once exposed to the rain, wind and changing temperatures, nails could possibly pop up, boards can begin to sag and loosen, and sealants might wear off.
Check these areas to be sure nothing is rotting, and ensure that the surface still feels tight and solid.
If you or your customers see any mold, moss, or mildew beginning to form, clean it immediately, especially if it's already begun to accumulate. Once cleaning is finished, apply an annual coat of waterproof sealer to keep it preserved.
Planter protection and pruning
Your customers might decide to bring as many of their planters as they can inside during the winter season, but for those that are too large to bring indoors, be sure that they are weatherproof – terra cotta pots tend to crack in the winter weather.
For those that can handle the task of taking on winter outdoors, empty them out, turn them upside down to keep water from collecting, and elevate them so the rim will not freeze to the ground.
For any low-hanging branches surrounding your customer's patio, shed or garage, go ahead and inspect them. If you see any that could potentially snap and fall under the weight of heavy snow or ice, go ahead and prune them before these elements arrive.
Feed the birds
Since it's harder for birds to get their grub during the winter, having a backyard feeder filled up can be a lifesaver. For customers who already are in the practice of maintaining a bird feeder, remind them to go ahead and get it filled and ready for action.
If your customers are interested in helping out these fine feathered friends but don't know what to fill their feeders with, suggest black-oil sunflower seeds. Experts at Cornell University's Laboratory of Ornithology recommend this, as they have a high meat-to-shell ratio, they have small and thin shells and they are high in fat.
Clean the grill
If your customers have grills that burn wood or charcoal, be sure to remind them to go ahead and empty out the ashes now and scrub the grates. If they have gas grills, it's a good time to go ahead and shut the gas line off and store the gas tank in a dry, cool spot in the shed or garage.