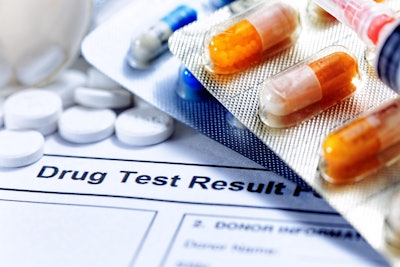 When you think of substance abuse, you may picture it occurring in some shady back alley, but you might be surprised at how often drug usage carries over into the workplace.
Approximately 70 percent of illicit drug users and 80 percent of heavy alcohol users are gainfully employed, and most don't realize they have a problem, according to safety specialists.
According to the National Institute on Drug Abuse, the abuse of tobacco, alcohol and illicit drugs cost the country more than $740 billion annually in costs related to lost work productivity, crime and health care.
Substance abuse in the workplace can result in decreased productivity, absenteeism, theft, increased use of medical benefits and higher rates of accidents and workers' compensation claims.
The current opioid epidemic and the legalization of marijuana for both medical and recreational use has complicated the situation even further.
For some landscaping companies, they are fine with operating on trust and not worrying about what their employees choose to do in their free time. Others opt to have a strict policy against drugs. Whether or not you choose to create a drug-free workplace policy depends on your own preferences, but it is often encouraged no matter what the size of your landscaping firm.
Why a drug-free workplace is important
There are a number of benefits that come with creating a drug-free workplace and one of them is improving the health and safety of all your employees and customers.
For Tim Lindgren, president of Lindgren Landscapes, in Fort Collins, Colorado, he refuses to hire workers who fail their pre-employment drug test, as he does not want employees operating heavy equipment and working around homeowners and their children while under the influence.
"We have had a handful of employees this year that we would have hired on the spot had they passed their drug test but they didn't," he says. "We're not going to budge on that. I want sober people. Clean people."
Substance abusers can also cause a drop in productivity, as they are far more likely to miss work or run late than non-users and they also tend to have an inability to focus or concentrate under the influence.
Employees who abuse drugs are 3.5 times as likely to have an accident on the job and five times more likely to have an off the job accident that can impact workplace performance.
To encourage the creation of drug-free workplaces, some states have even passed laws that allow businesses to receive discounts on workers' compensation insurance. Aside from insurance savings, having a drug-free workplace program can net other savings through improved employee morale and lower turnover.
Four years after Jerry Moland, owner of Turfscape Landscape Care, Inc. based in Chandler, Arizona, implemented his workplace substance abuse program, his company began saving $50,000 a year due to increased productivity, fewer accidents and less absenteeism and turnover.
Additionally, if your company is wanting to pursue federal contracts, you must have a drug-free policy in place.
Creating a drug-free workplace
Once you have decided if a drug-free workplace program is right for your landscaping company, there are multiple resources you can turn to to get started. According to the Substance Abuse and Mental Health Services Administration (SAMHSA), there are five main elements of a drug-free workplace.
A written policy – The first step is providing a clearly written policy that outlines the rationale, expectations for compliance, assistance options to support employees in following the policy and the consequences for violating the policy. You can click here to read about the bare minimum a policy needs and what some other aspects you can choose to include are.
Employee education – Educate employees on all levels of your policy and the problems associated with substance misuses. Let them know how drug abuse can affect employee health and employment and inform them of the resources available, should they or their families need help.
Supervisor training – Make sure that your supervisors are well-trained on how to document potential problems in a fair manner and to refer employees to appropriate services. Ensure they are aware of legally sensitive areas.
An employee assistance program – EAPs are designed to help employees who are struggling with problems that affect their performance at work. Some focus solely on alcohol and other drug problems, while others will address a range of other issues. One thing you'll have to decide is what you'll do if an employee is found with a substance abuse problem. You can choose to terminate him/her, or you can offer a second chance.
Drug testing – Drug testing allows you to know what levels of substances are within an employee's system. Various substances can be detected in different time windows. A majority of drug tests can be conducted on an as-needed basis.
When implementing a drug-free workplace program, you are responsible for doing your homework on making sure you are in compliance with local, state and federal laws. For example, Arizona, Delaware and Minnesota prevent employers from refusing to hire or fire someone solely on a positive drug test.
Cons of drug testing in the workplace
While creating a drug-free workplace has a number of benefits, there are some drawbacks you need to be aware of if you're considering implementing the program.
The major complaint against drug testing is that employees may feel their privacy is violated and that you have a lack of trust in them.
Some are even fearful that their off-work usage of drugs or alcohol could result in the same punishment as someone who abused substances on the job. This is due to the fact that failing a drug test does not mean that the employee was impaired at work, just that they used a substance within the time limit that the test checked.
With unemployment at 3.5 percent in September, according to the Bureau of Labor Statistics, landscaping companies have it hard enough as it is to find labor without shrinking the pool even further by ruling out those who can't pass a drug test. Data from Quest Diagnostics Inc. shows that failed tests reached a 12-year high in 2016 and it's expected to grow as more partake in legalized marijuana.
Yet this doesn't stop some companies from sticking to their standards.
"We drug test every single hire before they come in here, which is really tough in Colorado since pot is legal," Lindgren says. "I am not a fan of (drugs) in any way, shape or form. So, we monitor it even though our ops manager say it makes hiring even that more difficult."
Another issue to consider is that drug testing is an additional expense. Depending on the method used, tests can cost anywhere from $30 to $50 per person. You can also run the risk of being sued by employees you terminate for testing positive, as they can claim they were wrongfully terminated.
Navigating the rules for employee termination are tricky, so consult an attorney to protect yourself from these sorts of repercussions.