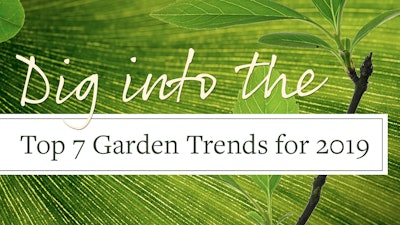 For Monrovia to create its 2019 trends forecast, it is part art and part science.
"As soon as we release our trends report, I immediately start on next year," says Kate Karam, editorial director for Monrovia. "I have files and files of folders of clippings and printed clippings and digital clippings. I start to look for things that pique my attention, things that I've never heard before. And then at the same time because I have access to live data of what we're selling and growing, I'm able to see the trends that are happening out there between all that information is how I come up with what we forecast."
This year's seven garden trends relate to how the public is becoming aware of the value of the natural world and how plants can enhance lives.
Millennial values
Also, what Monrovia is called the "Slow Garden Movement" is a desire from consumers for materials that are sustainable, hand-crafted or authentic. This demand is being driven by millennials who want to be increasingly aware of the way plants are sourced and grown.
"What we're beginning to see is a lot more insistence from customers for things that are one of a kind or locally sourced," Karam says. "People want to know where their plants came from. They're very interested in materials, in particular stone and wood and even containers that are either locally sourced or they know the pedigree of where they're from."
Karam says landscapers can also expect to see brands to start advertising and tagging on containers how plants are grown and what inputs they've been given over time.
"That's going to be a big key I think in terms of flipping the switch from younger people who are interested in gardening who maybe want to feel like they're gardening with a purpose," Karam says.
Architectural additions
As informal cottage gardens and billowing meadows have become a landscaping staple, Monrovia reports that the pendulum will begin to swing back with the inclusion of more structured plants in these relaxed gardens. This will create a yin-yang effect in the space.
"People are still really attracted to that very highly personal painterly garden you get with a cottage garden, but I do think that more structure is becoming important in all of those," Karam says.
She's noted an increased demand for structured, vertical plants and a lot of topiaries. Some example plants include weeping trees, camellias, Japanese maples and corokia.
"Anything that's go a twisted trunk to it, anything basically that's leafy and green and stands tall is something that people are wanting to put more and more into their garden," Karam says. "They're very much a show piece."
Seasonally designed spaces
Another trend that Monrovia notes is the desire for gardens that can dramatically evolve throughout the seasons as they become less predictable.
Karam says old standby combos that she used to carry all four seasons are no longer an option as plants that previously bloomed early in the spring are now flowering in the winter.
"Trying to find plants that have longer bloom seasons or that repeat bloom is where you're going to see a lot of the plant market going to," Karam says.
Monrovia is introducing a couple new azaleas that can bloom two and even three times in a season as consumer continue to want plants that flower from spring to summer.
Leave it to the professionals
Based on consumer research, there is a growing segment of homeowners who want to have a beautifully landscaped space, but don't have the time or ability to care of the plants on their own. This group of individuals is different from those asking for a low-maintenance garden while actually desiring a no-maintenance garden.
These homeowners instead are leaving it to the professionals to do the necessary work. According to the National Association of Landscape Professionals' (NALP) Harris Poll that was conducted as part of the Industry Growth Initiative, 40 percent of Americans with a yard hired a professional in 2017.
As for the demographic of who is hiring landscape professionals the most often, Karam says it's probably across the board but suspects its most common with the 30-40-year-old working professionals.
"It's beyond the mow and blow guy who comes and takes care of things," Karam says. "People need garden professionals who really understand pruning and how to care for plants and that's going to be a growing segment in our trade."
Pulling double duty
A similar trend to having spaces that look great in all four seasons is the desire for plants to pull double or even triple duty. As lots grow smaller, plants are expected to serve more than one purpose in the landscape. This could be a combination of features such as attracts pollinators, flowers for three seasons and has colorful bark for winter interest. Blueberries are a good example of a plant that can function as a hedge while having beautiful fall foliage, spring flowers and fruit at different times. Viburnums and dogwoods are some other examples of plants that offer interest throughout the seasons.
"If you only have room for one tree in your yard, one beautiful ornamental tree, you're going to want something like a crabapple that has beautiful flowers and beautiful bark and beautiful foliage," Karam says. "And it looks great in the winter and it feeds the birds and it's great for pollinators. It does all of those things. Those are the kinds of triple duty plants that people are needing more and more of."
One stop garden center
Monrovia is also reporting that garden centers, both large and small, are increasing their efforts to become a destination for consumers to not only buy plants but to bring a laptop to do some work, drop kids off at a planting workshop or dine at a farm to table café.
"A lot more garden centers are getting very savvy about once they've got you there, after they've done all the work of getting you there, they want to give you a very rich experience when you're there," Karam says. "They don't want to just sell you something. It's not just transactional where you come you buy something, and you go. They would love to able to have you in their world a little bit more."
Rodger's Gardens based in Corona del Mar, California, is an example of a business that offers more than a garden center, but also has workshops on floral arrangements and a restaurant called the Farmhouse.
"I think that right now some of the larger ones and the very small ones have the capacity to do this," Karam says. "Midsize ones I think will take a little bit longer to come on if they figure out this is the right thing for them, but I think you're going to be seeing a lot more of it."
Woodland gardens
Last but not least, as more people seek out nature for a respite from their digital world, Monrovia is predicting that the particular favored style of green spaces will be woodland gardens.
"It starts with the idea of being in an almost alternate universe that so far away from everyday life," Karam says. "There's no distractions. It's just you and really being inside of nature and really experiencing the smells and the sounds and the sights of all of that."
The cool, mossy and damp spaces can create quiet getaways even in an urban space with the use of ferns, mosses, coral bells and hostas.
One of the greatest challenges for creating a woodland garden in an urban area, however, is keeping the moisture levels correct.
"As we talk to consumers and we talk to landscape designers and garden center owners, these are the kind of things that they're telling us that they're seeing and what we're seeing at the same time," Karam says. "I would suspect that five years from now the way that people garden and the value they put on their garden is going to be very different."