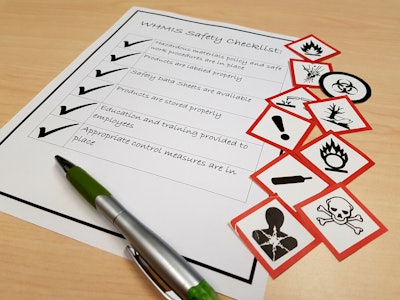 Keeping employees safe on the job site is of utmost importance, and making sure that new employees are trained and well-versed in correct workplace safety practices is mandatory when bringing them into your landscaping company.
Did you know that the Bureau of Labor Statistics (BLS) says that 40 percent of injured workers have been on the job for less than one year? The Occupational Safety and Health Administration (OSHA) agrees that those who are new on the job do have a higher rate of both injuries and illnesses than workers who are more experienced.
The main reason for this, the BLS says, is that employers aren't providing the appropriate amount of safety information to these new employees before they hit the job site.
Take a look at a few ideas you can implement into your company's safety training program to make sure all of your employees are in the know when it comes to safety.
Objectives and injuries
The easiest way to make sure that your new employees are on the up-and-up with your landscaping company's safety practices is to offer an orientation class upon hiring them that explains your safety program in detail.
During this time, be sure to go over every safety objective and goal for your company, and continue to drive home the point that every employee plays an important part in helping the company meet your safety goals.
"Training in the safe way for workers to do their jobs well is an investment that will pay back over and over again in fewer injuries and illnesses, better morale, lower insurance premiums, and more," OSHA says online. "It is a good idea to keep a record of all safety and health training. Documentation can also supply an answer to one of the first questions an incident investigator will ask, 'Did the employee receive adequate training to do the job?'"
Along with communicating your company's safety goals and practices, be sure that new employees understand the importance of reporting accidents and injuries when they occur.
OSHA has specific requirements for record-keeping when it comes to reporting accidents and injuries, so it's important to make sure new employees are trained according to these specific guidelines.
"Under the Occupational Safety and Health Act of 1970, employers are responsible for providing a safe and healthful workplace," OSHA says online. "No person should ever have to be injured, become ill, or die for a paycheck. Many OSHA standards, which have prevented countless workplace tragedies, include explicit safety and health training requirements to ensure that workers have the required skills and knowledge to safely do their work. These requirements reflect OSHA's belief that training is an essential part of every employer's safety and health program for protecting workers from injuries and illnesses."
OSHA recommends setting up an injury and illness prevention program in your landscaping company, which is a system that OSHA says can substantially reduce the number and severity of workplace injuries and illnesses.
OSHA states that most successful injury and illness prevention programs are based on the following key elements: management leadership, worker participation, hazard identification, hazard prevention and control, education and training, and program evaluation and improvement.
Emergencies, warning signs, and PPE
Regardless of how frequent or infrequent emergencies are at your company, it's important that both new and old employees understand how to handle emergency situations.
Your landscaping company should have an emergency action plan in place, and all employees should be knowledgeable of the procedures they need to follow to protect themselves and their coworkers.
To keep the information fresh in their minds, consider reviewing this emergency plan as individual teams or as a company at different intervals throughout the year.
In the green industry, there are many tasks performed that have a certain level of risk associated with them. To help keep employees in the know about what risks accompany which piece of equipment, there are warning signs and safety tags present in the work area.
Be sure to stress to new employees the importance of taking notice and heeding the advice of the signs when dealing with equipment and worksites. To help get ahead of this before setting foot on the jobsite, consider holding a quick class with new employees to show them the signs and symbols they will encounter during the workday, as well as the proper personal protective equipment (PPE) that accompanies them.
Speaking of PPE, it's always a good idea to assess your jobsite beforehand and know exactly what kind of PPE your employees will need to bring with them.
When picking out your PPE, be sure it fits properly while also being able to fully protect employees from present hazards. Be sure to offer a training course to new employees to help them understand when PPE is necessary, as well as how to properly care for and maintain the equipment.
Fire, lifting and electrical safety
Another common safety measure is teaching new employees how to handle fires. You can begin fire safety training by going over different ways fires could start, either in the office or out on a jobsite, and cover what would be needed in each situation to extinguish the fire.
It's also beneficial to take this time to show employees how to use a fire extinguisher, as well as where they are located both in the office and on the work trucks.
Even if your employees are in good physical condition, it's always a good idea to talk with them about the proper ways to lift heavy objects when working. Most back problems and injuries are preventable, and there are numerous issues that can accompany improper lifting, bending and twisting.
Be sure to talk with employees and demonstrate the proper methods of lifting objects in different situations, as well as the importance of working together with other employees to lift things too heavy for a single worker.
Too many deaths occur due to exposure to electrical currents, so teach your employees how to recognize and identify possible electrical hazards, as well as the proper PPE to wear when dealing with electrical jobs.
Hazard communication, LOTO and housekeeping
More and more workers are at risk for being exposed to hazardous chemicals, so during the orientation process, it's a good idea to go ahead and educate new employees on any chemicals they will deal with in the workplace.
Be sure to give them information for handling and interacting with these chemicals, as well as what hazards accompany them.
New employees that will be servicing equipment, as well as those working nearby, should also be educated on lockout/tagout (LOTO), which is a warning and prevention system for the release of stored energy and unexpected startup.
Keeping your company's workplace clean and clutter free is one of the best indicators of a safe space, as it cuts down on potential slip and fall issues and health risks that come from working in a filthy environment.
Be sure to educate new employees on the importance of keeping their office space and vehicles clean, as well as how to properly store equipment and how to prevent, clean up and detect any spills or leaks that occur.