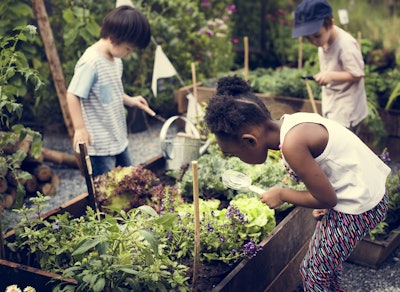 With more schools and parents seeing the value of getting kids involved in green industry activities at an early age, creating or helping host a teaching garden could be an idea to explore.
Teaching gardens allow kids to get out in the fresh air and are excellent ways to introduce them to nature in a hands-on way. Along with learning more about nature and green industry practices, being involved in a teaching garden can also teach kids about composting, gardening, plotting and graphing, nutrition, gauging weather and more.
If you have customers with kids who might find the idea of a teaching garden beneficial, or if your customers are teachers at local schools who might want to enlist your help to create one for their students, take a look at what you should keep in mind.
Long-term project
Much like any garden project, it's important to stress to clients or students that creating and maintaining a garden isn't just something they can do in a day and be finished with. Projects like these are meant for long-term involvement.
Creating a teaching garden requires time, dedication, knowledge, money, planning, involvement from the community, volunteers and continual maintenance throughout the year and on bad weather days.
If your customers are teachers wanting to create a teaching garden for their class, it's important to encourage them to also include beneficial lessons about garden care and maintenance in their daily curriculum before bringing the kids outside to start the project.
The more teachers are able to incorporate teaching gardens into the curriculum, the more students will desire to get out and about to work on them. Organizations such as the American Heart Association, Out Teach and the National Garden Association supply lesson plans that revolve around teaching gardens as part of their partnership with schools.
"The American Heart Association works closely with each school to assess its ability to successfully benefit from an American Heart Association Teaching Garden," the American Heart Association says online. "The program is a functional addition to schools and can be as unique as the community it serves."
The American Heart Association says that once a school commits to the program, a planting day will then be scheduled. The association provides the materials for the planting day, garden beds, seedlings, plants and soil, and the schools will also receive an American Heart Association Teaching Garden Tool Kit that includes lesson plans, community resources and more.
"Once funding is in place in a community, a garden location is determined," the American Heart Association says online. "The designated school must complete a comprehensive survey that assures their commitment to the program. Additionally, the school is required to establish a Teaching Gardens Committee to be involved in the program. Before the first planting, this committee receives special training to help guide their responsibilities."
It's also a good idea to think ahead about what they will be planting, what will be done with any vegetables or fruit grown, how often the kids will be out in the garden, whether they should start with seeds or with already grown plants, how much daily time will be needed to take care of the garden and what will be done with the garden whenever bad weather does occur.
Community involvement
Another way to help spread the word about green industry involvement is to make sure the community around you is also involved.
Once you've successfully gotten a fair amount of student involvement, talk to your client about branching out into the community to make the project even greater. If there's a possibility to make the projects even bigger and more elaborate, bring in your team or landscapers from surrounding areas to lend a hand and maybe some equipment and supplies to help show students what the green industry is all about.
It's also possible that if the community as a whole is involved in the garden, more volunteers will be willing and able to maintain it during the summer when the students will be out of school and potentially unable to take care of it.
For older students looking to get community service credit hours or even possibly a summer job or internship, helping out and learning how to properly care for the teaching garden could be an excellent step in seeing whether or not they would be a good fit for your company down the road.
At the end of the day, working with customers to create a teaching garden can help show them that landscaping is a creative outlet, a sustainable practice and also a viable career, which could help increase interest in green industry jobs as a whole.