Since 2006, AK Irrigation has been serving the Columbus and central Ohio market reaching $1.8 million in sales.
The company was started by Aaron Knepp who had 15 years of experience with servicing and installing irrigation systems and his soon-to-be wife, Lee, who had almost 10 years of experience in customer service and marketing.
As the couple's family grew, so did their business as they now service over 2,500 residential and commercial clients.
"It really came down to customer service," Knepp says. "At the beginning, we took the hardest jobs that no one wanted. We outworked the competition. I didn't do any rain days. We still don't do rain days. We're working. And in the seasonal industry, that's just how we built it."
At first the company simply had so much work sold they couldn't afford to take a rain day, but now Knepp sees it as a way to get ahead.
"Every time it rains, and I know we have 17 people out there getting work done and I see other companies sitting at home," Knepp says. "I know we're getting ahead and we'll continue to do that."
Yet despite their growth, the Knepps knew they needed to partner with an industry leader in order to reach their goal of $4 million in sales.
When Knepp first met Conserva Irrigation founder Russ Jundt in 2016, he says he looked at the company differently and was not on board at first. However, as Conserva continued to grow, Knepp knew he did not want to compete with them and looked into buying a territory.
As he researched the company, he began to like it more and more.
"I like how they focus on the water conservation side of irrigation, which is very similar to what we were doing, but our branding, didn't speak about it that way," Knepp says.
Knepp says he's always been passionate about water conservation.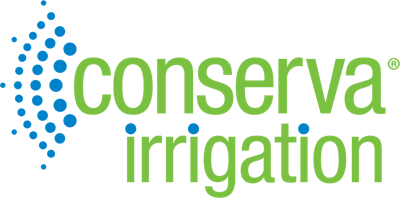 "I've felt like I've always been ahead of the curve on irrigation or a trendsetter in this industry," he says. "And I think this is one more thing that I'm doing that going to be a trend, but I'm very passionate about it."
One way Knepp has made an effort to improve water conservation is doing Wi-Fi control panels as standard for irrigation systems, rather than an option for customers.
"We're trying to automate it even more," Knepp says. "I mean, I'm looking at ways to be able to shut the water off in the inside of the house without the homeowner being there for the ease of scheduling where it's just taken care of. So, we're hoping to automate that without losing that personal touch, though."
The rapid growth the Knepps saw in Conserva's other franchises was also very appealing to them. When a recruiting coordinator reached out to Knepp, that's when things became serious as the couple was considering rebranding at the time as well.
When they were just getting started, the Knepps selected used Knepp's initials 'AK' as the business name for better placement in the Yellow Pages. Now the Knepps' company is known as Conserva Irrigation.
"Conserva has more of a water friendly or water saving name to it and it really shows the direction that we're going," Knepp says.
"We still have both websites," Knepp says. "It's the same phone number. It's the same trucks. It's same people. It's really just rebranding. But when we started this, we needed a new website. So, what I felt like what Conserva really brought to the table was a better marketing plan. That's not my strength. My strength is in irrigation and customer service."
All of the Knepps' trucks were stripped down and rebranded with the Conserva logos, but they still keep a small AK logo on the trucks to help current clients understand. Knepp says that once customers realize it's the same ownership and same employees, they love it.
Knepp says it's a daily task of communicating with the homeowners on the name change despite having sent out letters and emails explaining the switch.
"We aren't losing customers," Knepp says. "We're only getting more, and will continue to grow it and go from there. The main thing that homeowners want to understand is that my wife and I and our family are still involved. That's the number one question is, 'Oh, did you sell?' Once they understand that we're rebranding, it's still us, we aren't going anywhere, it's all good."
As for the employees' response to the rebranding, Knepp was worried they wouldn't respond well to the changes in operations, but he says that everyone is on board and they didn't lose any employees during the transition.
"There's a lot of training to it and it's a little bit more technical, but everyone's on board," Knepp says. "I think it shows that we do take care of the employees; we just ask that they take care of the homeowner. And that's why we didn't lose anyone. We're only growing from this. We were able to hire on a few more people and I like to hire on more, actually."
Currently Knepp says they have a lot of density where they are at but as Columbus continues to grow, he plans to grow his Conserva territory with it. He says there's also opportunities outside of their territory.
"Something I discussed with my wife, and I feel like Conserva Irrigation has all this open territory," Knepp says. "I'm working on right now a three-year plan to take a person that has no irrigation experience into more like apprenticeship role and be able to get them into more of a seasoned irrigation technician, where they're very trained and get paid year round, great benefits, different things like that. And then taking my technicians that have been with us 10 plus years, who know the ins and outs of this and have their team, and be able to put them into different markets with our office handling the backend of things."