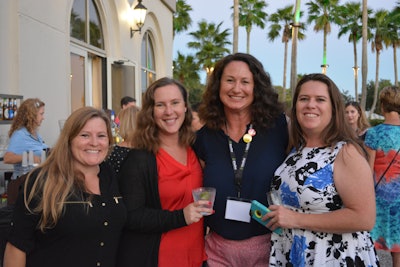 The Women in the Green Industry Conference (WIGI) is being held for the 24th year on Sept. 19-22 and it has grown from very humble beginnings.
WIGI was created by stand-alone distributor United Green Mark based in Novato, California, after the only female sales rep in the entire company came to Amber Baker wanting to create a girls' trip for customers' wives and women who worked in the green industry.
The first event was held in San Francisco and didn't have any educational sessions, but it did provide an opportunity for the women to network.
"It was just a really nice weekend away with women that were in the business and so we said let's take it a step further, let's do it again next year and offer a couple classes on industry trends," says Baker, division marketing manager – West for SiteOne Landscape Supply.
Year after year, the conference continued to build and grow, and when John Deere Landscapes acquired United Green Mark in 2005, it allowed them to take the event national. John Deere Landscapes was sold in 2013 and rebranded as SiteOne Landscape Supply in 2015. Despite the transitions, the distributor was quick to adopt the conference.
"They wanted it immediately," Baker says. "We told them about it. We gave them the business plan about it, and they asked to keep it going. (They've) always been enthusiastic about keeping it running."
At the first WIGI, only 12 women attended, but this last year, 160 women in the industry attended the event in Savannah, Georgia. The Greenery Inc. alone, based on Hilton Head Island, South Carolina, sent 10 women to last year's conference.
"We believe at The Greenery that our people are the greatest asset we have," the company said on its website. "This conference complimented our commitment to education and customer service. It was a way to further our team's knowledge and expertise in their field as well as keep up with the latest in technology innovation in the landscaping industry."
The WIGI sessions cover everything from business topics to product training with the manufacturers. Baker says SiteOne's vendor partners help develop topics on what's trending and they also use surveys to see what the customers are asking for. Baker says they strive to keep the curriculum fresh.
"We have a lot of sessions planned on leadership," she says. "Just giving them tools give that they need to be more confident in connecting with customers, ideas on how to keep their marketing fresh, and also just connecting on what other businesses are doing. Everybody's so busy in their own day to day, but to hear what someone is doing in another state and learning from them and sharing those best practices helps us all succeed."
Below are some of this year's session topics:
"Growing Your Business Through Digital" – will cover the best practices in digital marketing and how to drive business online.
"Building a Healthy Sandbox" – will discuss how to deal with upset customers and employees and how to develop a service recovery process.
"Serving the Millennial Customer" – will dive into what this new customer base wants and what their customer service expectations are.
"Using the Voice of the Customer" – will look at how to utilize customer feedback into meaningful changes.
"What I want to make sure is clear is no matter what part of the business you are in in the green industry, there's something for everybody," Baker says. "If you're an estimator, if you are in human resources, if you are in marketing, if you are out in the field as a project manager, we try to hit all parts of the business so everybody can benefit from a conference like this."
Baker points out that one of the elements that sets WIGI apart is that it is a four-day conference dedicated to women growing professionally and personally in the industry, unlike other events that might only have a single cocktail hour for women to network.
Networking is also a major aspect of the conference, as it brings together women from all parts of the country and every position in the industry to grow and learn together. Baker says that WIGI has helped some women just entering the industry fall in love with landscaping.
"What better way to connect and grow and be with other women learning and sharing and feeling good about what you're doing, and kind of igniting your passion again?" Baker says.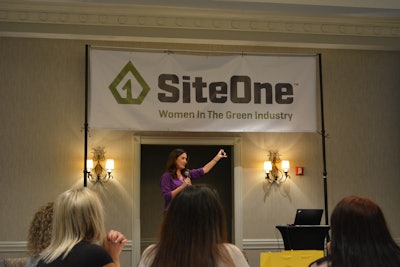 "I love this event," says a previous attendee in an anonymous survey. "I have made great friends over the years and I always meet amazing women! I look forward to this every year."
This year will mark the second time the conference will include a volunteer day project. Attendees will have the opportunity to partner with Project EverGreen to work on a project at Kennedy Park in Tucson, Arizona.
Baker says it depends on the location of the event as to whether a volunteer project is possible, but they always look into it. WIGI is always held in a different location. They tend to select a location that is a destination or a place that person wouldn't travel to on their own that is easy to get to.
"My favorite part (of WIGI) is women wanting to learn from and be with each other," Baker says. "It's a multibillion-dollar industry, but a close knit one. The connection WIGI attendees can make and the inspiration they walk away with is my favorite."
For those wishing to attend WIGI in Tucson, Arizona, Sept 19-22, the registration fee is $1,199 or 90,000 SiteOne Partner Points and covers air and ground transportation, lodging for program dates, program meals, classes and keynotes. Registration without air transportation is $999 or 80,000 SiteOne Partner Points.
The deadline for registration is Aug. 30. Click here to register.