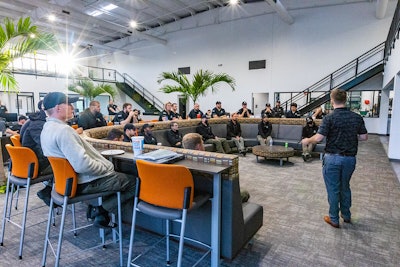 Oasis Turf & Tree
If you're a lawn or landscape business located in a cold-weather climate, then you might have a period of downtime during the winter. Unless you do snow operations, you likely have a very bare-bones staff come winter. However, if you can swing it, using the off-season as an opportunity to do some training with as much of your team as possible can make a huge difference once the prime season rolls around.
Taking time to train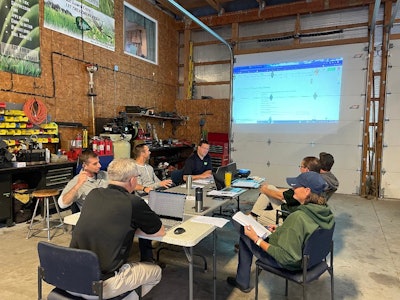 Although they value training throughout the year, Rob Reindl, founder of Oasis Turf & Tree in Loveland, Ohio says that Oasis uses the off-season to encourage team members to study and obtain certifications that will help them to further their careers.
"We also use the off-season to train the team on customer service, new equipment, agronomic topics, and more," Reindl says. "We take part in both internal and external training opportunities during the off-season as well as other times throughout the year."
Oftentimes, in the midst of a busy season, it can be difficult to find time for intensive training. It could mean taking a day off. But the off-season presents some free time that lawn and landscape businesses can capitalize on.
Joe Lewis, account manager for Environmental Management, Inc. (EMI) based in Plain City, Ohio, says that they use the off-season for crosstraining opportunities.
"In the spring when everything starts to get really busy, you might not have the time to teach your existing team members brand-new skills," Lewis explains. "But you can use time in the off-season to cross-train them in a different area and that can really help to strengthen the company. At a time when we are experiencing labor shortages, having team members that can handle multiple tasks are incredibly valuable."
Ryan Mason, business development manager for Joshua Tree, which has locations in Stockertown and Souderton, Pennsylvania, says that they are focused on training year-round but that the off-season does present a unique opportunity in that it's not as busy. This allows for even more time to focus on training.
"Training goes on all year here, but in the off-season, you do get a chance to decompress and process things a bit more," Mason says. "For us, that means looking at the past year and areas that we can improve upon as well as reinforcing what we're doing well."
Eric Irvine, Joshua Tree's lawn care supervisor adds that it's also an opportunity to bring seasonal team members back in and keep them engaged with the company. Even seasonal employees who might be collecting unemployment are eligible for an additional eight-hour shift and Joshua Tree will use that for training opportunities.
"It's important to stay engaged and connected with the team even during the off season," Irvine adds. "We've used this time to dive into different topics and really help them to understand everything they're seeing in the field. Plus, we'll also look at other areas such as having our pest control division manager talk about potential pest problems they might spot or our plant health care division manager talk about tree and shrub diseases."
Gearing up for spring
Even those companies that do offer snow removal services can find extra downtime when it's a limited snow season. Mark Borst, president of Borst Landscape & Design in Allendale, New Jersey says that the off-season is the best time to start gearing up for the spring. You definitely want to be able to hit the ground running when the time comes.
"If we're not busy with snow, our team is refurbishing the equipment and making plans for the spring season," Borst says. "There are often plenty of ways that we can start preparing in advance of the busy season to be sure we're ready."
The off-season can also present an opportunity to perform employee evaluations, says Reindl. Oasis is using this time to extensively evaluate employees and help set goals for their future.
Mason of Joshua Tree says they do the same thing.
"We perform quarterly reviews but we use the off-season to do our big annual review for each employee," Mason says. "We are talking about their strengths, their areas of improvement, and what their goals are for the next year. This is the best time to help set them up for success ahead of a new season."