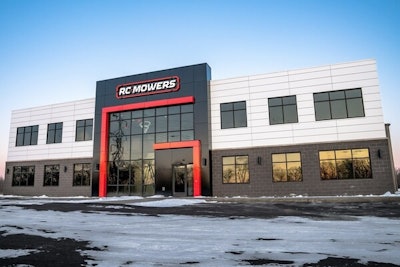 RC Mowers
RC Mowers, a manufacturer of autonomous and remote-operated robotic mowers, has opened its new $4.8 million Green Bay office and production facility designed to help the company continue to meet industry demand.
"This new facility is a result of the unprecedented success RC Mowers has experienced since our inception," said RC Mowers CEO Michael Brandt. "We have doubled our revenue every year since we opened in 2018, and with the rollout of our new Autonomous Mowing Robot (AMR), we expect to continue this exceptional growth."
Brandt said that along with the need for more factory space, the company has been expanding its workforce to meet production demands. The additional workspace will also allow the company to hire more office employees and engineers.
RC Mowers manufactures remote-operated and autonomous robotic mowers for commercial use. The robotic mowers are built to safely mow steep slopes and difficult terrain while the company's autonomous mowers allow landscaping contractors to reduce their mowing labor by up to two-thirds and generate profit from what are traditionally loss-leader services.
The 36,300-square-foot building is located on a 7-acre site adjacent to the current RC Mowers' location. It features 9,300 square feet for office operations and another 27,000 square feet of production space. The facility provides the growing robotic mower manufacturer with three times the space it had at its old location.
"This new facility will enable us to meet our growth objectives and the demands of the commercial mowing industry," Brandt said. "We're excited to continue providing the quality, American-made robotic mowers our customers have come to rely on and look forward to expanding our operations."
SavATree merges with Vermont Arborists
SavATree has merged with Vermont Arborists. This marks SavATree's 2nd office in the state and expands its regional coverage in Vermont.
Vermont Arborists is highly regarded in the green industry with a loyal customer base and reputation for professionalism and superior service. They specialize in all aspects of arboriculture as well as plant health care services for discerning homeowners and commercial clients in Vermont. Owner of Vermont Arborists, Michael Roche, along with his dedicated team will remain on board with SavATree as part of their ongoing commitment to building and maintaining quality relationships and landscapes.
"Merging with SavATree means growth for my employees and enhanced resources for our clients. We couldn't be more excited to join forces under one canopy and serve the Stowe area and Lamoille, Washington, and Chittenden counties. I am confident this partnership is the best choice for my team," said owner Michael Roche.
"We are thrilled to welcome and embrace the Vermont Arborists organization! Together with our Burlington team, we have the combined resources and expertise to provide a broad range of services to our clients. We look forward to upholding Vermont Arborists' commitment to the local communities while maintaining an environment where employees can thrive," said SavATree CEO, Carmine Schiavone.
Jobber announces YouTube series
Jobber, a provider of operations management software for home service businesses, announced the availability of three new YouTube Series: "Ask a Business Mentor," "Shop Talk," and "Jobber Academy" video series with episodes already available to stream on Jobber's YouTube channel. Each series will continue to release episodes on a bi-weekly basis during their seasons, which will consist of 8-12 episodes.
Jobber's YouTube videos have already received 65,000 views since the initial episodes were released in December 2022, demonstrating the significant demand and ongoing need for educational content in the home services industry.
The new YouTube series joins a long list of free, value-first content created by Jobber that demonstrates the company's commitment to the home service category and the professionals within it. Resources provided by Jobber include, but are not limited to:
"The wide array of content Jobber creates is designed to provide value to home service pros and entrepreneurs to ensure they are successful at every stage of their business and professional journeys," said Jason Ford, Creative Director at Jobber. "We aim to be as thoughtful as possible with how we deliver content so that professionals can find it in their preferred formats, whether that is video, podcasts, emails, events, online articles, social posts, and more. YouTube is a channel that is often mentioned by our customers and can reach billions of users while driving sky-high engagement, which is why we've committed to expanding our presence with these unique, new series."