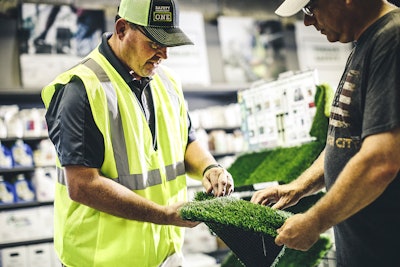 SiteOne
SiteOne Landscape Supply and Project EverGreen have announced a new incentive to attract and retain volunteers for the GreenCare for Troops (GCFT) program which provides complimentary landscape and lawn care services to families of deployed military personnel.
Volunteers who register with the GreenCare for Troops program in 2023 and agree to help at least one military family with free lawn and landscape services will be rewarded a single use $250.00 discount coupon toward products purchased in-person at any SiteOne's 630 stores in the United States.
"It's important for military families to enjoy healthy yards and lawns and to come together as a family during times of uncertainty when a member is deployed," said Kevin Laycock, director, category management at SiteOne Landscape Supply and current board president of Project EverGreen. "GreenCare for Troops allows volunteer companies to maintain the turf and health of the family's yard which supports Project EverGreen's mission. Quality turf provides the Earth with carbon sequestration and clean air for families and their neighborhoods."
The GCFT program has matched lawn and landscape professionals with deployed military families for 17 years. It's a natural way for landscape companies to share their knowledge and skills of healthy yards and landscapes with military families during a stressful time. By providing a safe and healthy yard for families to relax and play, military families enjoy the environmental and health benefits of a greener, cooler neighborhood and community.
"Project EverGreen is appreciative of the ongoing support SiteOne has provided to the GreenCare for Troops program and our volunteers who provide these important services to military families at no charge," said Project EverGreen Executive Director Cindy Code. "This discount coupon helps support the efforts of the volunteers who are so generous with their time and resources."
Project EverGreen will send new volunteers an email verifying their SiteOne account has been loaded with the coupon. Volunteers must be a registered SiteOne customer to redeem the coupon. If volunteers do not have an account, registration is free and can be done at https://www.siteone.com/request-account/form
For complete information on the offer, visit https://projectevergreen.org/about-the-program-volunteer-siteone/
ECHO announces new president and CEO
ECHO Incorporated, a manufacturer of high-performance outdoor power equipment for commercial and homeowner use, has announced the appointment of Harold Redman as its new president and CEO effective April 3. Redman brings more than 30 years of outdoor power equipment experience and a proven track record of executive and organizational leadership, strategic green industry vision and product innovation to ECHO.
Redman began his career with General Power Equipment, a division of True Value Hardware. He then joined Simplicity Manufacturing for nine years before his tenure at Briggs & Stratton, where he served as President of the Home Power Products business for four years and president of the Turf & Consumer Products business from 2010 to 2022.
"ECHO is a well-respected company with a reputation for offering great products and customer care, and I'm honored to lead a company rich in innovation and legacy. As our industry continues to change with new technologies, I look forward to working with this exceptional team of talented and passionate ECHO employees to bring new products and services to the green industry," said Redman.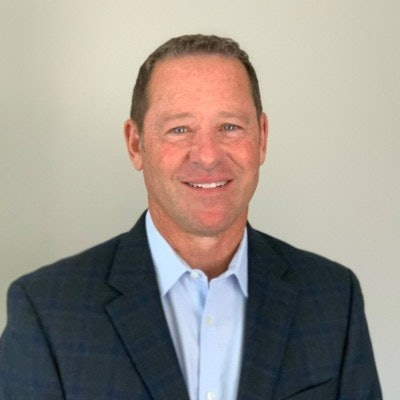 Redman succeeds Tim Dorsey, who is retiring after 27 years from ECHO serving in various roles, most recently as president for the last nine years. Dorsey will continue to serve as a global operating officer of Yamabiko and a board member for ECHO and Yamabiko Europe.
"While I'm excited to move to the next chapter, I also have a heavy heart as my time at ECHO has been the most rewarding of my career and I cannot express my gratitude enough. However, it's safe to say that ECHO is in great hands with Harold, who is a driven, humble leader that demonstrates strong leadership through a hands-on management style and engagement with employees and customers," said Dorsey.
Horizon acquires ProWater Irrigation & Landscape Supply
Horizon Distributors, Inc., a full-service wholesale distributor of irrigation and landscape maintenance products announced today that it has acquired the assets of ProWater Irrigation & Landscape Supply, Inc., a Prescott, Arizona-based distributor of irrigation and landscape supply products. ProWater Irrigation Supply operates two sales and distribution centers serving the Prescott, Arizona and central Arizona markets.
"ProWater Irrigation has served the central Arizona market for over 20 years," said Phil Stephens, Horizon vice president. "Adding the ProWater Irrigation team and sales locations to Horizon's existing Arizona sales center network enhances our presence in the fast-growing Arizona market and provides a strong conduit enhancing Horizon's service to customers throughout Arizona. Steve and Janice Brooks, ProIrrigation owners will continue working with us to ensure a smooth transition for ProWater's loyal customers."
Steve and Janice Brooks added: "Joining the Horizon organization will enhance ProWater Irrigation's customers' growth opportunities with expanded product offerings, services, and resources. We appreciate the support from the many customers, vendors, and dedicated employees that we have had the privilege of working with over the past years. We will work closely with Horizon to ensure a strong combined business going forward."
For more information about Horizon, visit www.horizononline.com.
Bobcat forms partnership with NRPA
In celebration of Bobcat Company's 65th anniversary and with a focus on positively impacting communities, Bobcat and the National Recreation and Park Association (NRPA) are partnering to create vibrant and sustainable community park and recreation areas.
Through their partnership with NRPA, Bobcat will extend five grants, each worth $50,000, to support five park improvement projects in designated communities throughout the U.S. Bobcat will also support the grant recipients through the use of its compact equipment lineup as applicable on project sites.
Projects may support various restoration, beautification, or enhancement activities focused on climate readiness, native habitat restoration, trails maintenance or development, native plantings, and pollinator habitats, green stormwater infrastructure, sports fields, and more.
"Bobcat is committed to investing time and resources for the betterment of our world, and these grant opportunities align with our community-building initiatives and focus on sustainability," said Mike Ballweber, president of Doosan Bobcat North America. "We are humbled to support these efforts and serve as a catalyst for cultivating resilient communities throughout the U.S."
NRPA is dedicated to building strong, vibrant, and resilient communities with a focus on positive change in service of equity, climate-readiness, and overall health and wellbeing. NRPA's network of professionals and advocates provide essential services and confront pressing issues such as advancing mental and physical health, creating climate-ready parks, supporting equity and inclusion, and more.
"We are thrilled to partner with Bobcat to showcase the power of parks and recreation," said Kristine Stratton, president, and CEO of NRPA. "Park and recreation professionals are champions in addressing so many of our most pressing challenges and are key to building stronger, healthier, and more vibrant communities."
In alignment with NRPA's equitable grantmaking criteria, the grant evaluation process will prioritize sustainability needs and focus on communities with a moderate to high level of vulnerability by evaluating social factors such as poverty, housing, transportation access, and the community's vulnerability to natural or manmade disasters.
"At Bobcat, we are committed to supporting the communities where our customers, dealers, and employees live and work," said Laura Ness Owens, Doosan Bobcat vice president of global brand and North American marketing. "Bobcat is a proud supporter of the National Recreation and Park Association. Together we aim to build infrastructure at the community level, drive best practices and spread awareness of the power of parks and recreation."
Bobcat Company is committed to building strong relationships, engaging volunteers, and providing financial and in-kind support to organizations and programs to make a positive impact. To learn more about Bobcat's community partnerships, visit bobcat.com.
To learn more about NRPA, visit nrpa.org.