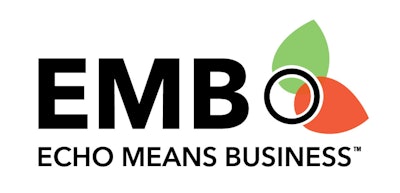 No matter how long you've been in business, there's always something new to learn. That's one of the reasons why so many Green Industry pros appreciate ECHO Means Business (EMB), an online community dedicated to providing educational content for professional landscapers, arborists, and more. The EMB website was recently relaunched and is now easier to navigate and full of new educational content. Users also no longer require credentials to access the information. It's now available to everyone.
The EMB program was created in 2017 in conjunction with the ECHO User Advisory Group (UAG), a volunteer group of Green Industry pros who dedicate their time to mentoring, educating, and inspiring others in the industry. The content found on the EMB website and EMB social media platforms is predominantly created by the UAG group.
Michael Bedell, owner of Bedell Property Management in Milford, Michigan, has been a UAG member since 2018. He says that the best resources for other landscape professionals often come from those with "boots on the ground."
"The EMB content is from other professionals," he says. "There's a lot in the form of video which is a preferred way for many people to get information."
Bedell says that he uses it himself to access information from other UAG members, knowing that some might do a certain task or service more often than him.
Scott Horoszewski, owner of Landscapes by ACME in Swanton, Ohio, agrees. He has been a UAG member since 2019 and, like Bedell, says that the EMB has been a great resource for free information. He's also found his involvement in the UAG to be rewarding.
"We share knowledge on everything from how equipment runs to business tips," he says. "We are available to network with people and are always willing to take a question or give away our knowledge for free. It's about helping one another."
Bedell says that the Green Industry has always been really good about supporting one another and that's become more true than ever in recent years. Banding together can help strengthen the industry as a whole and EMB helps support that.
"In this group, competition goes by the wayside," he says. "It's just about helping one another. It's all peer-to-peer, giving advice to your fellow brothers and sisters. We're helping better ourselves and each other."
An abundance of content
The content found on the EMB site really ranges. You can find everything from content on how to run your business better to how to change a carburetor, says Horoszewski.
There's even a business resource page with free downloadable documents like door hangers, contracts, and postcards. The business resources also include tips about starting, managing, and marketing a landscape business.
"From the person just starting out to the industry veteran, there's really something for everyone," says Horoszewski.
Bedell agrees.
"When you're brand new, everything is a resource," he says. "But I've been in the industry for almost 20 years and I'm still learning something new. I like that this group keeps me fresh. When you have done this work as long as I have, you start to feel like you already know everything. But what keeps you fresh is staying around the younger, newer business owners and learning from them, too. Having a willingness to learn is something that will take you really far."
Horoszewski says that EMB is always updating the site with new content from week to week.
"It's a good website to bookmark and keep coming back to check out what's new," he says. "You'll find new articles and new videos on a regular basis."