Landscaping professionals nationwide have eased back into semi-normal operations after undergoing drastic changes caused by the 2020 Covid-19 pandemic, according to a survey conducted by Total Landscape Care January 25-31 (this survey had 109 respondents).
When asked whether their company was able to stay open and operational throughout 2020, 94 percent of landscaper respondents reported yes, while 6 percent reported no.
"We lost a couple days due to testing of workforce but for the most part, we have not missed any work," a North Carolina landscaper reported.
"At the beginning of the pandemic, we chose to close because we weren't sure of what to expect," says an Illinois landscaper. "That ended up costing us a little, but we then continued operations with precautions."
"We managed to do design work and put projects on the shelf," a New York landscaper reports. "We were able to do that thanks to being a public agency. So far, we can work from home and keep office density at no more than 25 percent with all other precautions, and we have very restricted travel and no layoffs. But that could change."
At the height of the pandemic, one Pennsylvania landscaper reports that the company voluntarily stopped working for two weeks.

Project backlog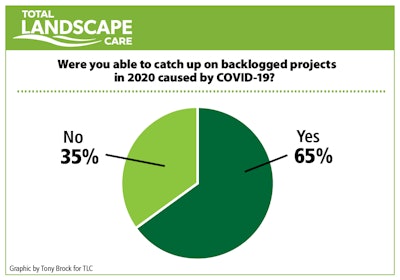 When asked if they were able to catch up on backlogged projects from 2020, 65 percent of respondents reported they had caught up.
"We are in Nebraska, which had measured lockdown rules," one respondent says. "Everyone was at home, and every single client asked for additional services!"
Contrarily, 35 percent reported that they were not able to catch up on backlogged projects.
"Most projects are 'frozen' or on hold and if relief funding goes to the public sector, some projects can go," a New York landscaper says. "Some, however, could see funding decreased or not get built. Who knows? Funding is a huge concern. Even if projects have funding, there is too much uncertainty right now with public work."
"We had a bigger project list in January than we've had in 36 years," one Colorado landscaper says.
"Demand continues to be high, while projects get completed a bit slower than before," an Oregon landscaper says.
"Many of our clients have second homes up North but are staying here in Savannah year-round and spending more to improve their first homes," a Georgia landscaper says. "Covid-19 has helped big time in this aspect of business."
"Some of the larger maintenance contracts were hit hard due to businesses not staying open, but the high demand of landscape projects brought our profit to match last year's numbers," a Massachusetts landscaper reported.
Making changes
2020 taught the green industry much about making adjustments to stay afloat, and two of the most commonly implemented changes included instituting work from home policies (23 percent) and increasing cleanliness of facilities (52 percent).
Other major changes many companies dealt with included laying off employees, putting certain projects on hold or, conversely, seeing such an increase in business that new employees were brought on.
One Arkansas landscaper reported having to lay off 45 percent of employees.
"Daily equipment and vehicle cleaning cost us approximately 330 additional labor hours," a Nebraska landscaper notes.
"We have limited the use of multiple crews on a project site, and we always step away from a site when another contractor will be working," a landscaper in Oregon says. "Our designer works from home, and only conducts meetings outdoors or via video conference."
When asked if any of the changes made in 2020 will carry over into the new year, 78 percent reported yes, while 8 percent reported no and 14 percent reported that some changes were still in effect and others were not.

A Connecticut landscaper reports that their company implemented automatic invoicing and automatic credit card billing, both of which will continue in 2021.
The vast majority reported they will continue sanitation practices in the new year, as well as social distancing on job sites, wearing masks while working and allowing remote work for certain staff members.
The future
While no one can predict what the future will bring, 26 percent of respondents believe that the next month will remain fairly even between "significantly better" (5 percent) and "significantly worse" (4 percent), with the mean (6.12) leaning more positively.
One Colorado landscaper reported that they, "Don't expect business conditions to change until we're seeing the backside of this virus."
One New York landscaper believes conditions will stay about the same as they are now, but they are hopeful summer may bring some "optimism and slow indications of improvement."