John Deere has introduced a new hydraulic coupler (16GE23) for compact excavators that enables operators to switch buckets without leaving the cab.
The hydraulic coupler is designed for 35G, 50G and 60G excavators, the manufacturer says, noting that it's compatible with the expanding lineup of John Deere "Worksite Pro" attachments.
The company says its new hydraulic coupler offers features that boost an excavator's productivity, including a wedge bar locking system that compensates for wear and keeps the coupler joint tight. The wedge-style bucket pickup enables compact excavators to maintain breakout forces by keeping weight down, and operators can easily switch to other attachments, such as hydraulic hammers, with an adaptive bracket.
The coupler is activated using a rocker switch. Once activated, curling the bucket unlocks the coupler.
Eterra introduces beach cleaner and screener
For landscapers near the coast or with lakefront clientele, Eterra Attachments LLC introduces a beach cleaning and screening attachment it calls the first of its kind in North America.
Eterra says its Beach Master attachment simplifies the three different steps in the clearing of beaches – collecting debris, transporting debris and leveling sand – into one seamless step.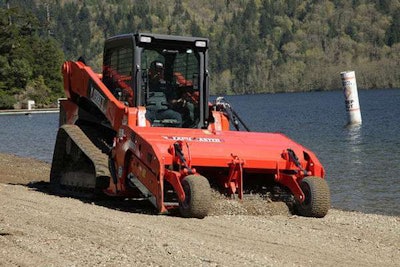 Because the Beach Master is front facing and forward moving, the company says, skid steer operators can focus on what will be cleared instead of straining their necks to observe what was just cleared.
The typical topsoil screener designed for tractors relies on dragging, a technique Eterra Attachments says it avoids because of the likelihood that it will damage the machinery in the long term.
The Beach Master attachment can handle both wet and dry sand, and Eterra says it will pick up items as small as a cigarette butt.
The attachment comes with two vibrating screens: one designed for finer beaches and the other for courser beaches. The screens can be individually installed by unscrewing the two fastening knobs.
The hydraulic system controls both the depth settings of the screen and the opening and closing of the hopper where the collected materials are stored. The hopper is self-contained, Eterra says, and the dumping of materials can be operated from inside the cab with the built-in cylinders and control valve.
The cleaners' high lift capability means materials can be moved straight from the hopper to a dump truck.
When properly fitted to a compatible skid steer, the attachment clears about 16,000 square feet per hour, the manufacturer says.
To learn more, check out this video about the Beach Master: