Small concrete batching saves you money on short-load fees, and the makers of the Cart-Away Mini Belt Loader promise it can help you do just that.
The new product is a simple and efficient way to load a portable concrete mixer trailer, the manufacturer says. The bolt-together, 7-foot conveyor is set at just the right height to move the concrete materials into the drum for mixing.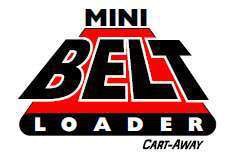 With a small tractor and this portable loader, the company says, you can start delivering ready-mixed concrete on the day the system arrives. The small loader, with fast moving conveyor, can load one trailer or a fleet of trailers without stopping.
Cart-Away Concrete Systems says its new product is also an excellent tool for companies doing remote projects that require a robust portable concrete batching solution.
The Mini Belt Loader uses hydraulic power, just like larger concrete batching equipment. Cart-Away has been producing concrete mixing systems such since 1993. Its latest conveyor system weighs less than 1,000 pounds and has a footprint of only 59 inches wide by 86 inches long.
The frame, conveyor, legs and hydraulic power unit are all powder coated for durability, the company says.
Here's a video of the product: