Maine landscaper uses stone and plants for award-winning results.
As an artist, landscape architect Bruce John Riddell "paints" his canvases with sweeping strokes – big and bold, not only in how he handles physical area, but in his conceptual breadth, which opens new design possibilities with every project.
A survey of Riddell's portfolio reveals several themes in his aesthetic. His love of granite figures large. There are courtyards, moats, bridges, serpentine paths, staircases and waterfalls. For one house, his design includes a vast granite plaza with a built-in pizza oven and granite-ringed hot tub. He prefers live edges and old quarry relics, and will almost always – even for curved patterns – piece together unfinished slabs like a puzzle, rather than cut to fit.
The sculptural quality of his stonework is heightened by abundant sweeps of vegetation – flowers, ferns, grasses, moss – strategically planted in strata that provide color through the seasons and soften edges.

Peek through the hedges
Riddell came from good stock in the landscaping business. His grandfather, John "Jock" Riddell, was an estate gardener who, in the 1920s, studied at the Royal Botanic Gardens Edinburgh, Scotland.
"When he graduated, he was offered jobs in South Africa and Bar Harbor," Riddell says. "In the 1920s, where in the world would you want to be? You'd want to be on the Riviera of North America, which was Mount Desert Island."
Jock became the gardener for the wealthy Anson family estate in Bar Harbor for many years. In semi-retirement, he oversaw the grounds of a small cottage in Bar Harbor known as the Farm House, which was part of a larger estate owned by Robert Hall McCormick, an important and prosperous inventor of the 19th century.
The Farm House's gardens were designed by Beatrix Farrand, one of the most important American landscape designers of the early 20th century. When Jock took over as caretaker, the Farm House had been given to the wealthy daughter, Mildred Day McCormick.
"The best gardens are the ones that push the limits of imagination, and all the components of the garden reinforce each other."
Bruce Riddell recalls as a child in the 1970s, he would peek through the hedges when "Miss McCormick" wasn't there. "I would walk through these beautiful gardens with the plants raised from seed by my grandfather," he says. "I have memories of running through the sprinkler on these perfect lawns."
As a young man, Riddell earned a bachelor's degree in English and had no idea what he wanted to do in life. He worked at a garden center, and one day found himself on a job at the McCormick garden. He soon became a favorite of the elderly lady, for his industriousness and the creativity he put into caring for her gardens.
"At the end of this summer, she said, 'You know, you should become a landscape architect,'" he recalls. "I said, 'What's a landscape architect?' I had never even heard of it."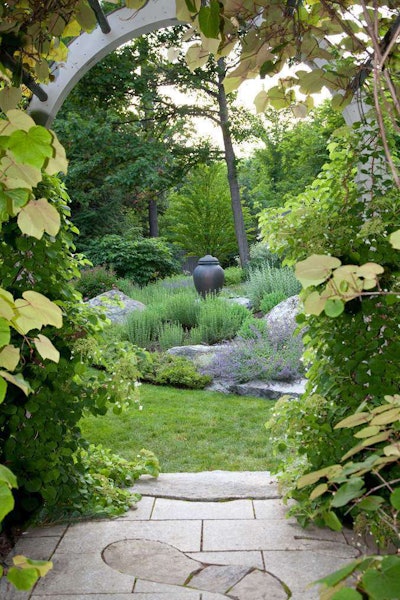 McCormick paid for his return to school for a master's degree in landscape architecture. He chose the University of Pennsylvania for its eclectic mix of people with diverse backgrounds.
After graduation, he went to Washington, D.C., and immediately landed a job, a matter of "sheer luck" that involved visiting firms from the yellow pages and finding one, Oehme, van Sweden and Associates, that had just decided to hire that morning.
While at OVS, from 1986 to 1994, Riddell worked on many public projects, including Battery Park in New York, Reagan National Airport and The National Zoo, as well as dozens of private gardens throughout the country, including a few for some well-known politicians and television celebrities such as Oprah Winfrey. "I had the dream job," he says.
Still, it wasn't quite the ultimate dream he envisioned. So, Riddell started his own business, and he and his wife, Alicia, decided to move to Bar Harbor where he was eventually able to land lucrative jobs at some of the larger estates in the area.
Since creating his business, he has received numerous regional and national awards, including the American Horticultural Society's 2010 Landscape Designer of the Year award, the Perennial Plant Association's National Honor Award for Garden Design and the Boston Society of Landscape Architects' Outstanding Residential Design Award, both in 2011. He has been featured in more than a dozen regional and national magazines, and his work has been included in several home-and-garden books.
Grand approach
Several years ago, Riddell took a job in Southwest Harbor where a couple had torn down their old house and were building a new one. Riddell was faced with a 2-acre property ringed by woods with a torn-up center that was little more than a construction site at the time. The landscape design moved along with the construction project, which was atop a steep slope leading down to the sea.
Riddell decided on a "grand approach" to the house. The design would connect the house to an existing garage above it, hide the driveway, help to provide drainage for the house, whose foundation was below grade, and connect the indoor viewer with the outdoors through a combination of stonework and lush vegetation.
"For me, it's all about stone," Riddell says, "using it to create the 'bones' of the garden. It holds the slope, but it's also sculpture."

"Cast-aside granite – to me, those are the most wonderful, beautiful pieces of sculpture," Riddell says.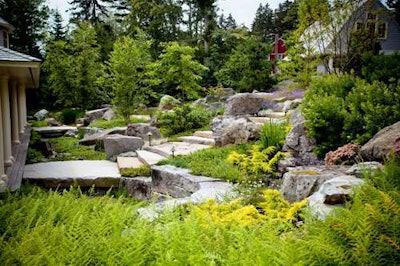 Riddell created a granite "moat" around the house, with two stone bridges that lead from the courtyard to the wrap-around porch. He allowed ledge "intrusions" into the moat's walls to make them appear more natural. "You can set perfect walls, but what makes it more real is when you sort of erode man's geometry and bring nature back through it."
Flowing throughout the stonework and planted among its tiers are swaths of perennials and annuals, berries, ferns, flowering shrubs and specimen trees. Most are natives.
Riddell also speaks to the importance of artistry. "The best gardens are those that push the limits of imagination and all components of the garden reinforce each other," he says. "You can't have just one good element. You have to have several. And that interface, that energy you get out of combining plants, stone, water and function, if it all works together, you've succeeded."
By Laurie Schreiber