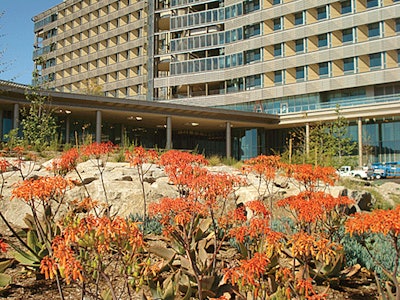 Landscape restores environment and patients
To extend a healing, tranquil environment beyond the hospital walls, Benchmark Landscape (benchmarklandscape.com) installed a $2.5 million sustainable landscape at Palomar Medical Center West in Escondido, California. When built, the hospital was the largest construction project in California, spanning 35 acres, so Benchmark's design had to go the distance. The landscapers started by installing numerous bio-swales that drained to five bio-basins for filtering surface runoff water.They also added an extensive drip-irrigation system that uses recycled water. Benchmark's plant pallet consisted of California native and drought tolerant plants, succulents and grasses, California sycamores and live oak trees. Designers also incorporated hardscape elements such as large boulder outcroppings, natural rock walls and monuments at focal points and entryways. This project won Benchmark an achievement award in the "California-Friendly Landscape Construction Commercial" category from the San Diego chapter of the California Landscape Contractors Association (CLCA).
To have your project featured, e-mail high-resolution photos, a description of the project and the name of your business to [email protected].