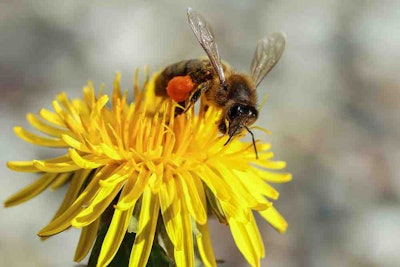 Pollinators (bees, birds, butterflies, bats, and beetles) are essential to our ecosystem. They support wildlife, provide healthy watershed, and more. But, there's been a noticeable decline in their numbers over the past eight or nine years.
Research points to multiple factors affecting pollinator health, including pests and parasites, microbial diseases, nutrition problems, loss of habitat and forage, and climate change.
Pesticides, primarily the neonicotinoid class of insecticides, have also been part of bee health discussions. Because of the complexity of the pollinator issue, banning the use of neonicotinoids is not an effective solution. And, a recent study from the University of Maryland found that honey bee colonies were not seriously affected by neonicotinoids when label instructions were followed.
Our industry takes its role as an environmental steward very seriously and is committed to educating others about helping to protect pollinators, with a special focus on bee health.
Seven years ago, the U.S. Senate designated of a week in June as "National Pollinator Week" and the U.S. Secretary of Agriculture signs the proclamation every year. This week marks a necessary step toward addressing the urgent issue of declining pollinator populations.
Pollinator Week has grown into an international celebration of the benefits pollinators provide. The heightened awareness of pollinator health is a sign of progress, but it is vital that we continue to maximize our collective effort.
During Pollinator Week this year, June 15—21, we all need to work together to educate the public about the important role that landscape professionals can play in protecting our environment. Encourage support of pollinator health by sharing the message through events, website graphics, signage and press releases.
We have also created a letter to President Obama, urging him to protect pollinators by creating more habitat and forage areas for pollinators, and by considering all sources of information about and contributors to pollinator health issues. Please consider signing this letter, and sharing with the public.
Pollinators positively affect all our lives—let's do what we can to save them. Thank you for your support on this important issue.
Maureen Acquino is the Marketing and Communications Manager for PLANET, the national association of lawn and landscape professionals